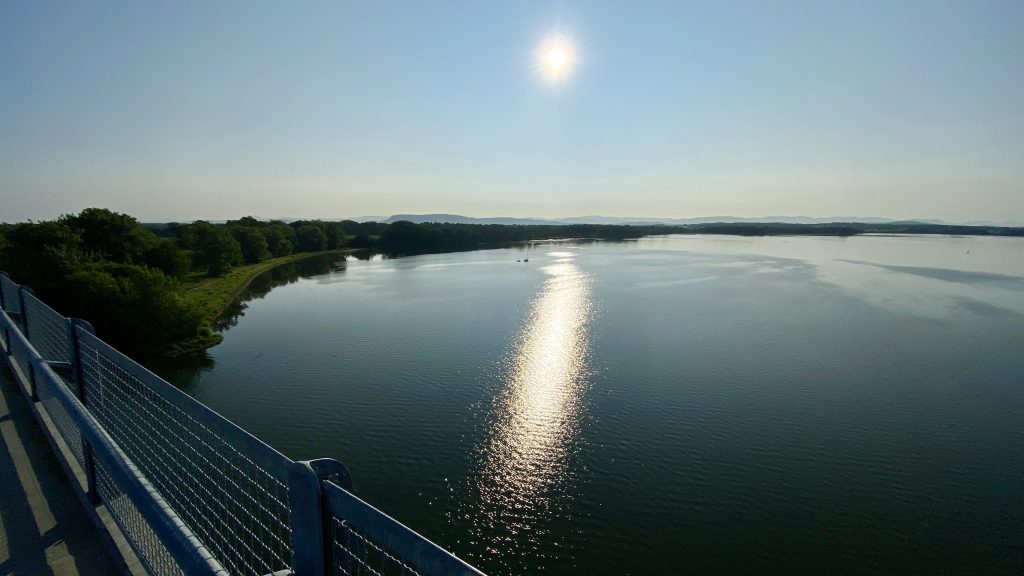 August 16, 2021
First, I want to give full credit to the name of this blog entry to the Phantom Regiment, who's retro performance of their epic program – Harmonic Journey was the best salve for drum corps fans that had sorely missed the live activity for over 22 months. It seemed to be fitting to end this 2021 tour series thus. As always, it takes at least a couple of days to return home to my humble abode along the Mill Brook, but here I am again at last. High side of the left lane and by hook or crook (and Siri), I am perched on my brookside deck, listening to a recording of Canon in D, performed by the Phantom Regiment in Lucas Oil Stadium Friday. Thank you, pirate posters. Still one of the best closers of all times, this 30-year-old program ­– Harmonic Journey gives me thrills every time. The 2021 kids really pulled it off, all three nights. My harmonic journey with DCI this season has come to an end, but the music is still in my head. Remembrances continue to flush my eyes. Since I arrived home this morning, I have resisted going to my piano because that keyboard will hog all the words, and no one will hear them. It is time to catch up with you on an awesome return to DCI performances by way of this blog.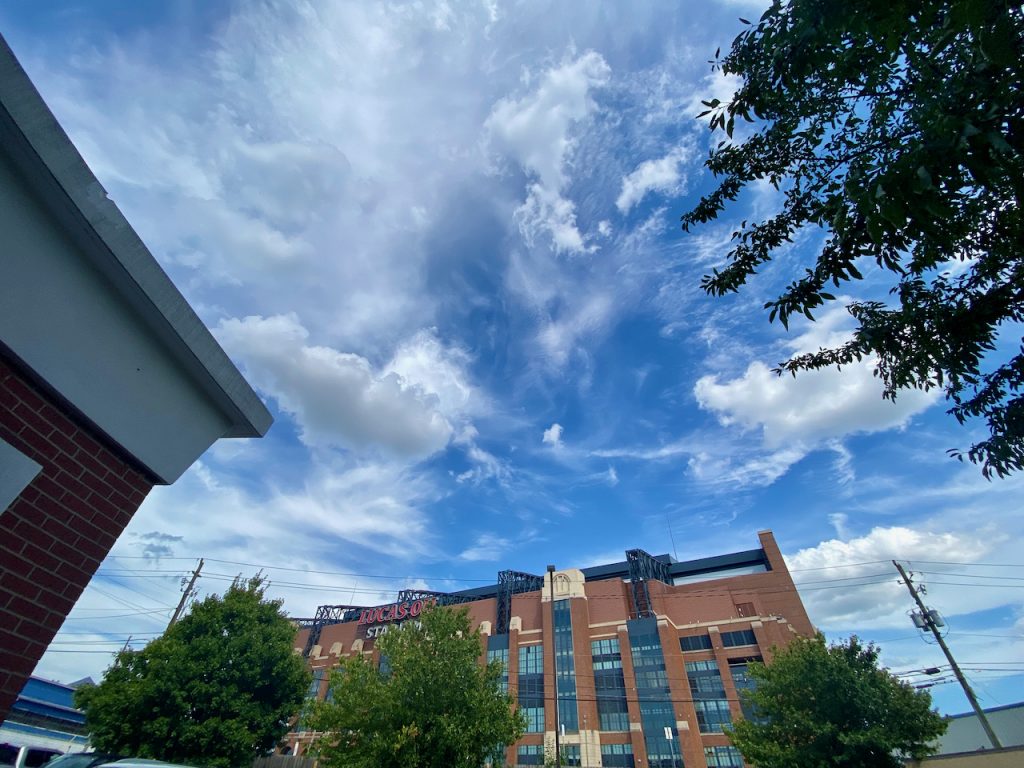 On Saturday, the final night of DCI Celebration 2021, a culmination of the return of live performance of junior drum and bugle corps from across the nation, I was back in my seat at the right 30 and loving every minute of it. Being at the top of the second tier, I was in a place where some of the kids from earlier performing corps would come up and see a show from the stands. One kid, Lucas, a high school student from Tennessee and baritone player for Music City, sat next to me to watch the Phantom Regiment. I could tell by his ardor for the performance and his air of confidence that he will have a successful drum corps career and be a game changer in his life after drum corps. He is one of the thousands of examples of such fine future leaders that are present here at DCI. No doubt he has proud parents.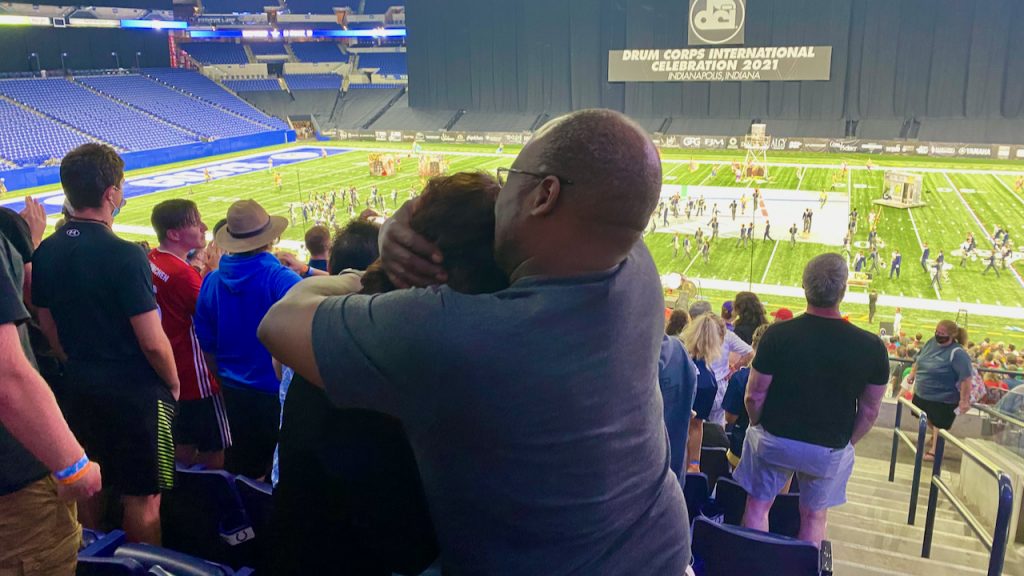 The peeps in the seat around me were having as much fun as I was. Steve to my right is a true drum corps fan, in his seat for the entire day all the three days. Mark and Laurie in front of me are enthusiastic supporters of the Blue Stars. Son Kevin performed a flawless show. I was completely overwhelmed when the parents, held each other for a prolonged and tight embrace after the show. It was Kevin's age-out year, and they were so proud. No dry eyes on that one. Again, love and family are the underlying pillars of drum corps. Young, old, large, small, Mars, Venus, you name it, drum corps is a unique blend of Americanism. Examples like brothers Mike and Rick, consummate supporters of their hometown corps from Boston, touring again in the stands and at rehearsals, are multiplied large and wide. The teachers, parents, aspiring kids who sat next to me, and all those hard-working kids on the field and the professionals and volunteers behind the scenes that I have met give me the hope, courage and motivation to go forward with my other mission-driven retirement projects.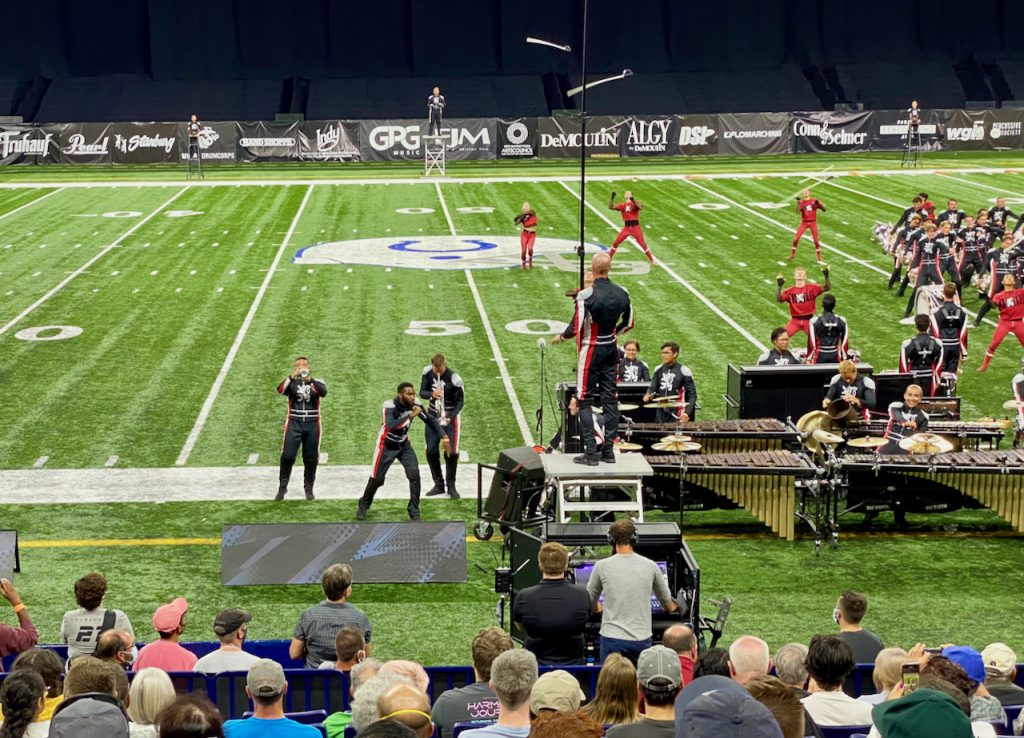 The journey homeward included an intermission to scout out the North Country Trail. My original plan was to hike some of the trail in the Seneca Territory, near Salamanca, New York. However, as way leads on to way, I decided to hunt for Denali, a long-distance hiker who I hiked with in Vermont and previously connect with in Boonville, New York earlier in the week. She was westward bound near Dryden, NY on a section of the Finger Lakes Trail (FLT). The FLT hosts the NCT and there is an established route through south-central New York State into Pennsylvania through the Allegheny State Park and National Forest. Dave Galbreath from the Clarion Chapter of the NCTA said that one should prepare well as there are no opportunities to provision deep in the National Forest. My last message from Denali said that she just passed I81 interstate, so I extrapolated an estimated distance that she will walk during the time it would take me to rendezvous, and I chose Dryden, NY. One bicyclist on the Schug Trail, a former railroad, thought he saw a person, slightly bent forward with a yellow pack. But alas, after searching each possible trailhead and park in the area, like the unicorn, Denali was not to be spotted.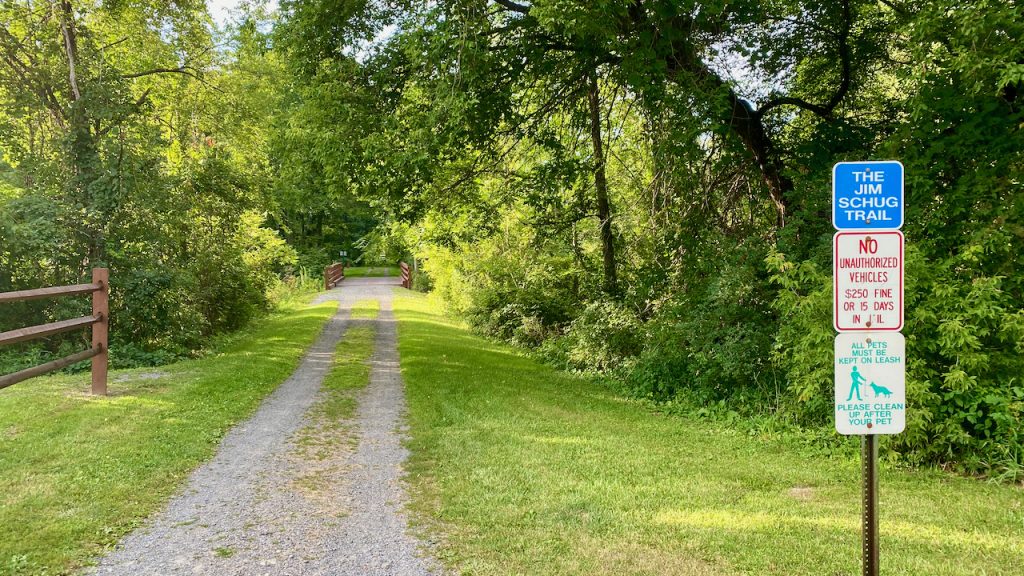 Heading northeast along the approximate route of the North Country Trail, I returned home vicariously experiencing her hike through Central NYS and the Adirondacks thinking of her out there alone on a cold night. But, I was ok about not connecting, confident that she is just fine. I ate the large French fries that I purchased for her at that famous Scottish restaurant that is found everywhere along our highway system. I had saved some Cabot Seriously Sharp Cheddar singles to give her.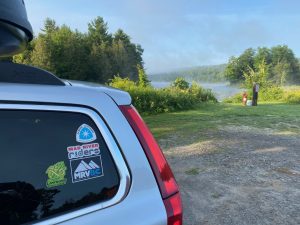 Now that I am nicely settled back into my humble home on the Mill Brook, I continue to cogitate on the DCI experience. While in Indianapolis, I spent a good deal of time with some of the characters behind the scenes that are willing to give the three Ts in support of the activity – talent, time, and treasure. These are the board members of the non-profit organizations that underlie the drum corps. Each corps is represented on the Board of DCI, sort of like the NFL but with a whole host of complexities that are beyond my scope here. The goal of providing equity across the corps in terms of funding, level competition, etc. can be elusive. All kids should have the same level of safety and sustenance. I asked these questions: How do we get more kids interested? How do we support more Open Class corps and encourage World Class entry for the kids who don't make the cut on the top 12? How can we grow the interest in the activity to expand the fan base and financial supports?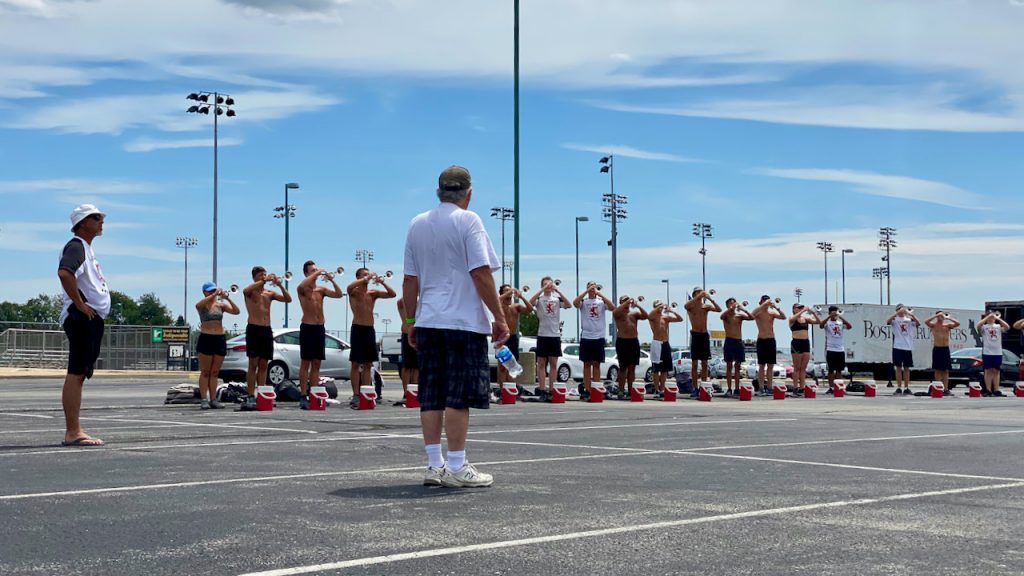 I would like to propose an answer to the last question. Don't be so stingy with content. I am still waiting to see the Carolina Crown video because I was having dinner with the BAC brass staff during the showing in Lucas Oil Stadium. I'm sure it was good. But, even as an ardent fan of the activity, I cannot find it anywhere to view now. So how do we expect anyone else in the general public to be inspired by it and the activity. I am just glad that I was there to attend the show in person. A video service that I will subscribe to will be one that has great production quality, able to study each program and cover the wow moments, offers a recorded streaming ability for at least 48 hours following the live capture, has no irrelevant commercials, and has archived programs to view for a small fee.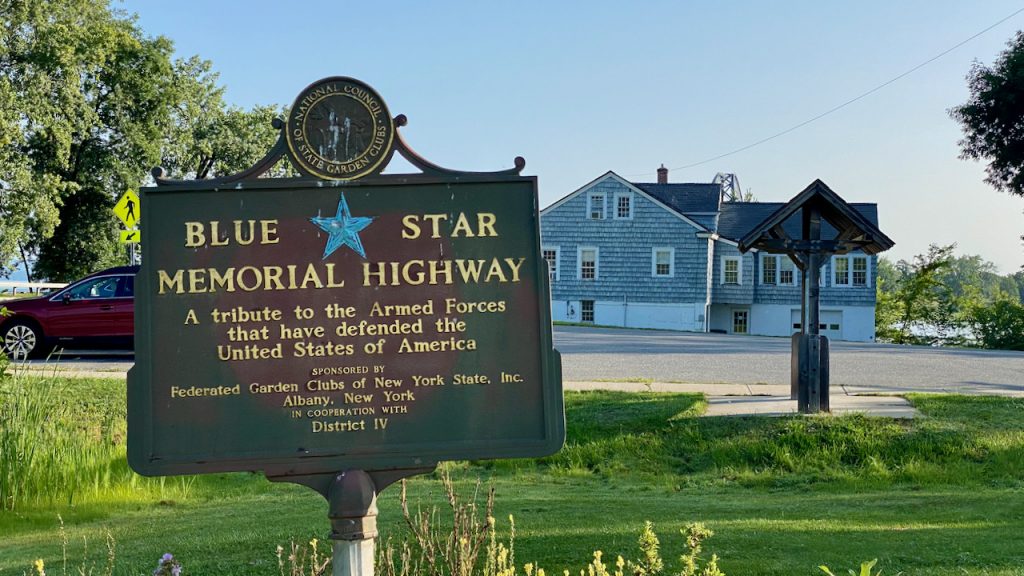 Stepping down off my soapbox, I will conclude here that it was an amazing season of drum corps for those who showed up. Dan Potter, DCI MC on the field said to each of the age-out groups, "Thank you for showing up. Your courage and dedication made it all possible, inspiring others to come out and bring us back to live performances." That is the essence of it. It is the kids who inspire us, giving me great hope for a better future for DCI and for all of us. I will leave it there for now and say, "Happy Trails." And, if you see a little gray-haired lady in an orange cap and sneakers, slightly bent forward, carrying hiking poles, tell her I said Hi.