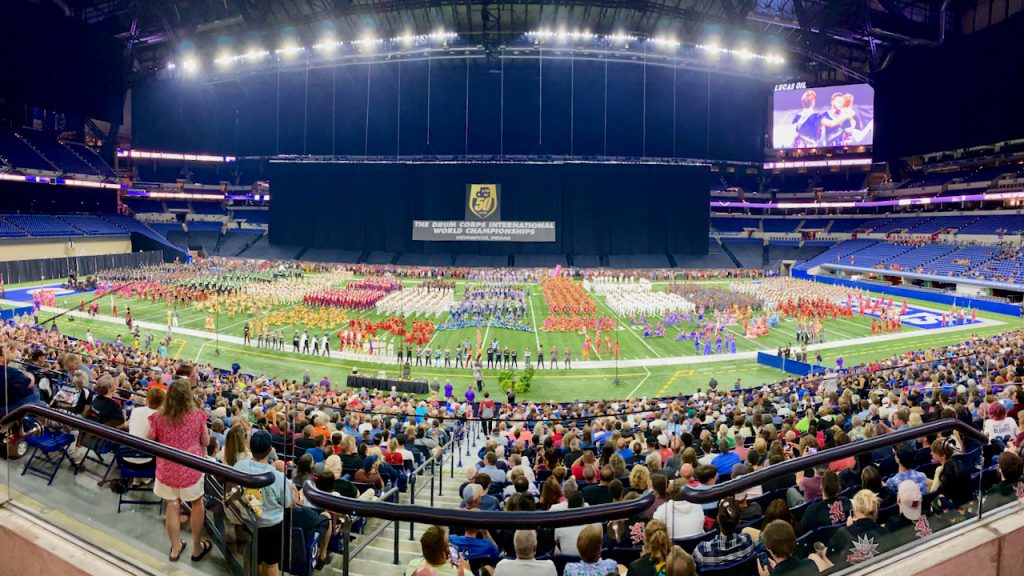 August 13, 2022
3:00pm
What a great experience hanging in Military Park, the warm-up area for the horn lines and drum lines last night. I did not have a ticket for the show, so that was my destination for the evening. Upon arrival, Carolina Crown brass was in section groups going through snippets of the show to continue to achieve that perfect pitch and tone that they are known for. Shortly, they all reassembled together, trumpets, mellophones, baritones, euphoniums, and tubas. There were roughly 80 in all in a concentric circle about 30 – 40 feet in diameter. The leader in the center had complete control as he paced them through the chord progressions, to the final intense chord that made everyone's hair stand on end that had been sitting in the grass around them.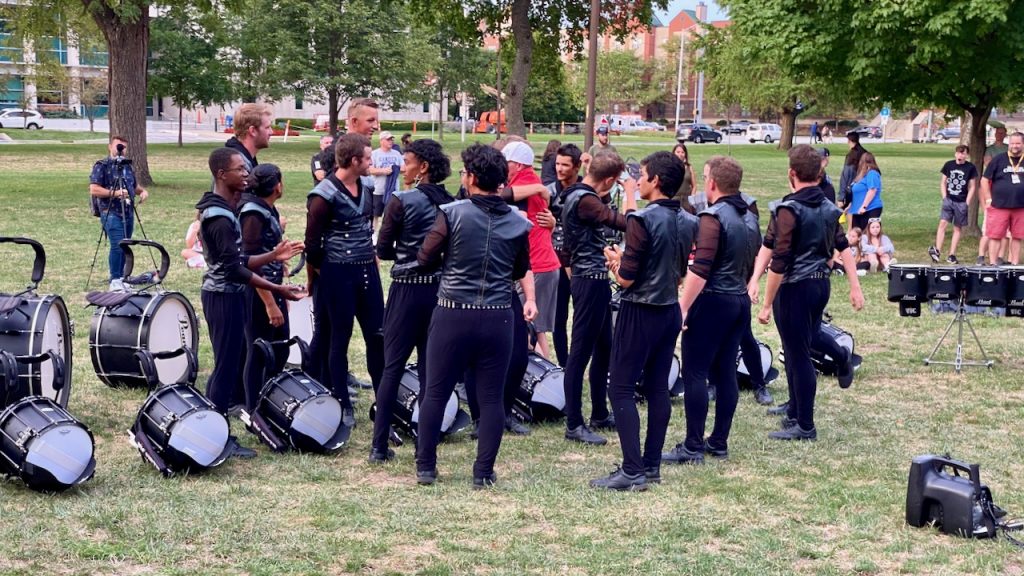 Later that evening, the Boston Crusaders drum line assemble at another location in the park. Coincidentally, the Bluecoats were adjacent to them about 100 feet away finishing up there warm up. They would be soon whisked in their coaches to be transported to the stadium with police escort., leaving BAC to capture the crowd. BAC's drum line has been garnering quite a following this year and there were hundreds of onlookers and listeners, cheering at the completion of even the most rudimentary warm up piece. Colin, the head percussion master, had big smiles, knowing that he had a great team of gifted members to pull off his very complex percussion book.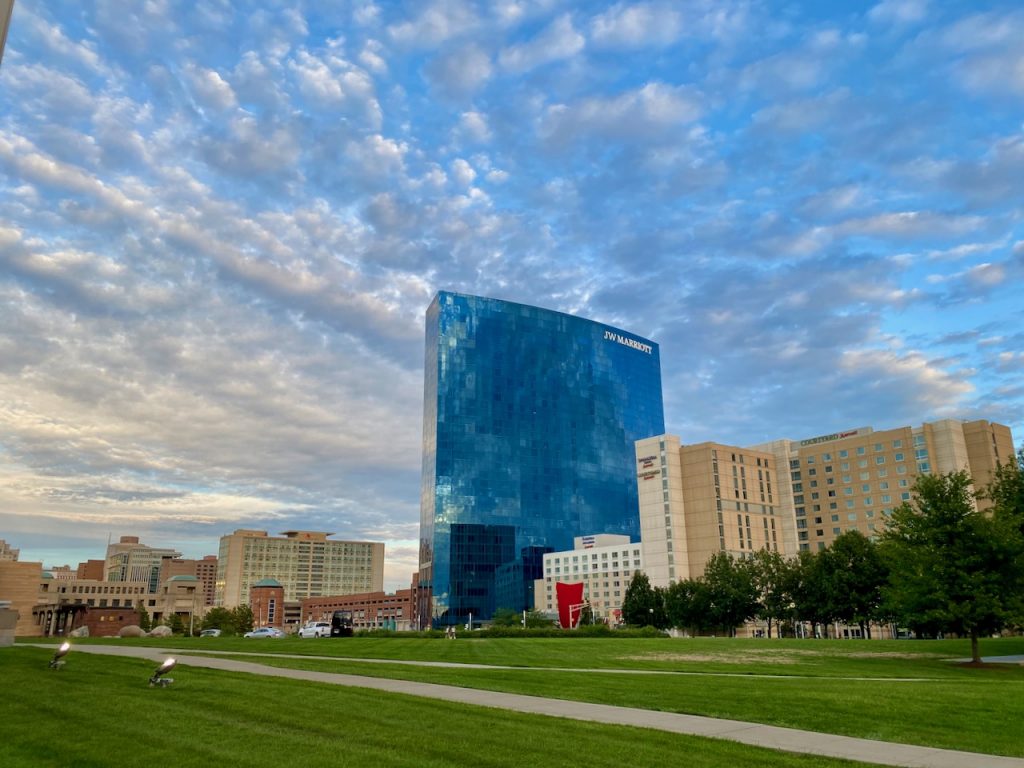 Following that magical moment, I drifted off to take a long urban walk. Indianapolis is a wonderful place to walk in the downtown area. The government center and White River State Park are well connected with sidewalks, pathways, and esplanades. The Central Canal provides a waterfront-like experience through the city, and you can even rent kayaks and paddleboats. As the sun was setting, the lighting was great to capture the cityscapes and the variety of architecture of the large urban buildings in juxtaposition. I chose a destination of the Crown Plaza Conference Center where I have found a nice little Kawai grand piano. I had a great session on Wednesday evening and was hoping for a little more improve at track 10. Alas, the doors were locked. However, while waiting for a light to change, I had a nice conversation with Jill, a drum corps mom. I ended up walking with her about seven blocks to hear her story about her son Noah, a first-year member of the Madison Scouts. Being a newbie mom, she related how impressed she was about his experience. Of course, she has been volunteering and spending time with the corps. A trumpeter, Noah will be attending college for music and wants to be a music instructor. Another proud drum corps parent. This city is full of them this week.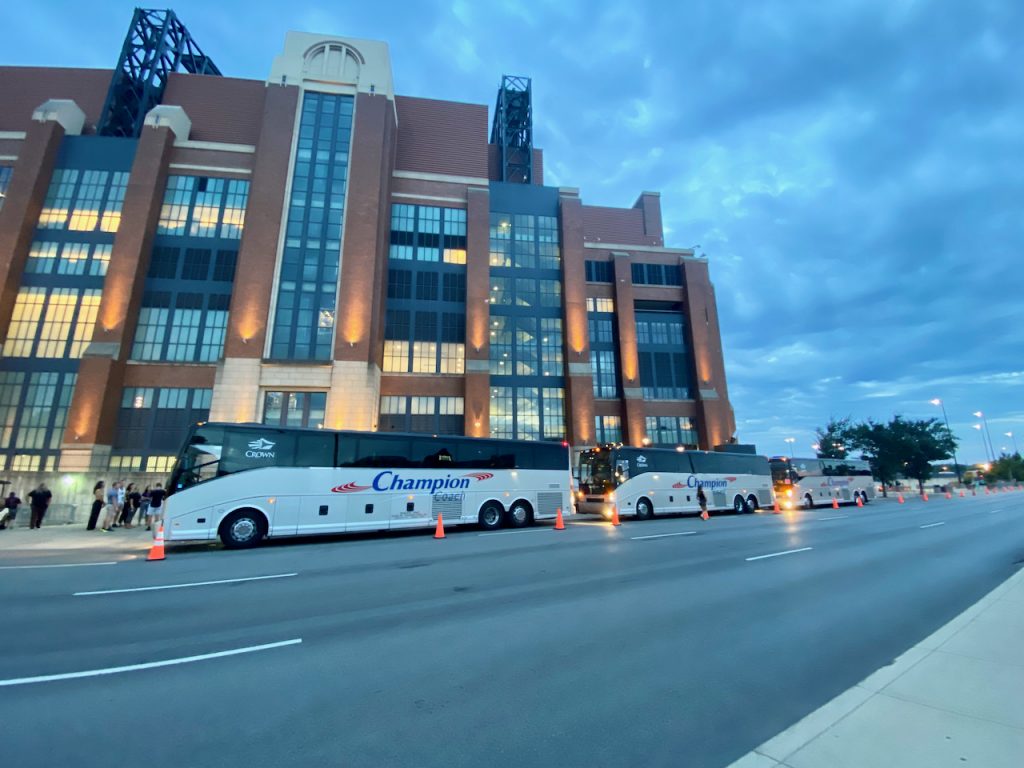 Feet warn out, I returned to the hotel to rest my weary bones on the outside patio. Brandon, the lone occupant at the table and I immediately connected. His daughter Sophia was chosen to perform with INpact. This is an ensemble of 250 students selected throughout Indiana to perform one night in the Lucas Oil stadium Sophia is a snare drummer. Brandon spoke about the conservative culture of his community in southern Indiana not necessarily supporting girls making such a choice. He has been encouraging and supporting her choice despite this, and here commitment and dedication being equally applied, she achieved the distinction of being the first girl drummer to represent her county in INpact. They will perform this evening to start us off.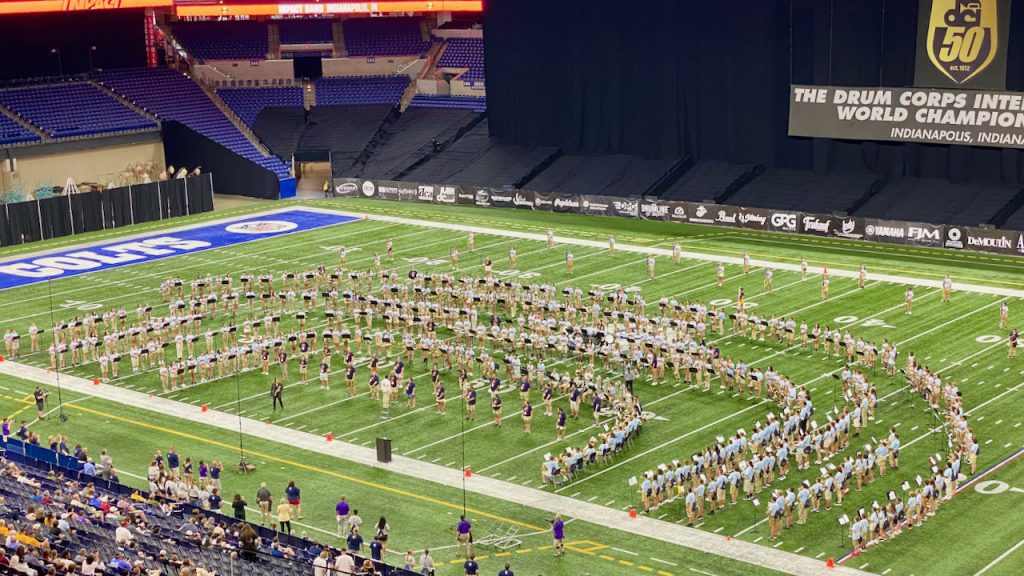 10:30pm
Oh, what a night it's been. Twelve of the world's best performing ensembles performed their hearts out in the final show of the 2022 DCI season in Lucas Oil Stadium. My seat was nosebleed far up under the rafters 435 beyond the end zone. These were not the best seats. However, as providence would have it, my seat neighbor was a brass instructor for Music City and band director at a large high school with a marching band of 250 members. What a treat to share asides and observations as the shows progressed through the evening. Kelly is one of the many dedicated band directors and instructors that participate in DCI corps that I have gotten to know since my emersion in the activity in 2012.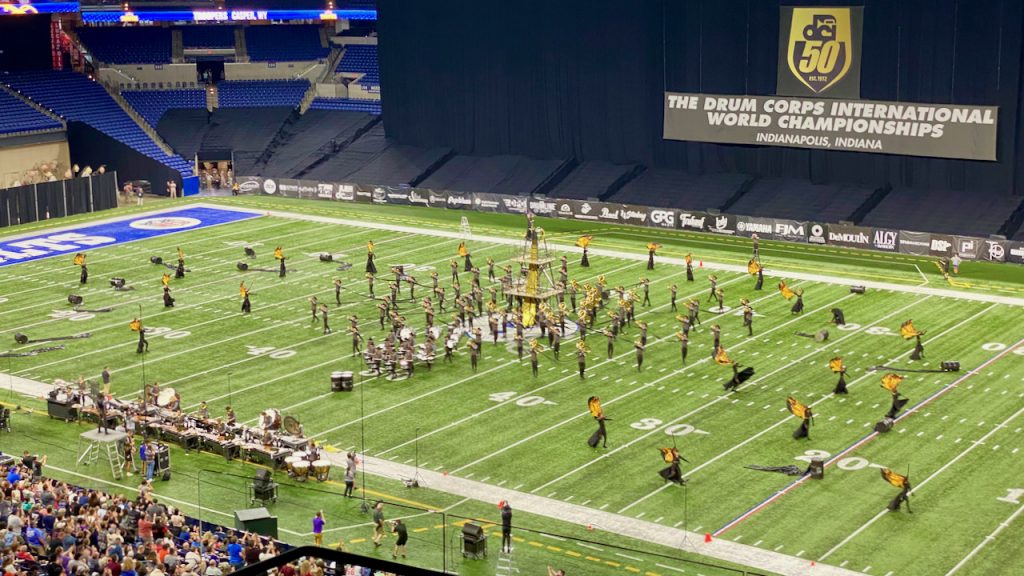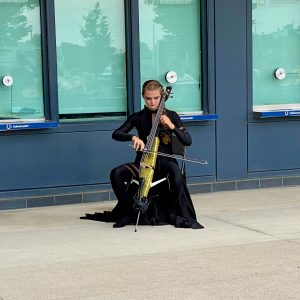 The world is a better place because of those who inspire and teach. Music is the most universal and unifying force on earth. Youth music education in DCI teaches the worlds religion to thousands of young individuals every summer. After tonight, these students go back to their high schools and their college campuses with a highly enhanced appreciation for the amazing things they can do when they all work together. They will go on to lead others to learn the same. This is all thanks to Kelly and the thousands of others who dedicate themselves to the summer-long slog across the culminating in this mecca here. No matter what ranking each of the performing corps achieve, they are all champions for doing the same. Music City achieved their personal corps goal of a high score of 80. Sores are only one measure of success.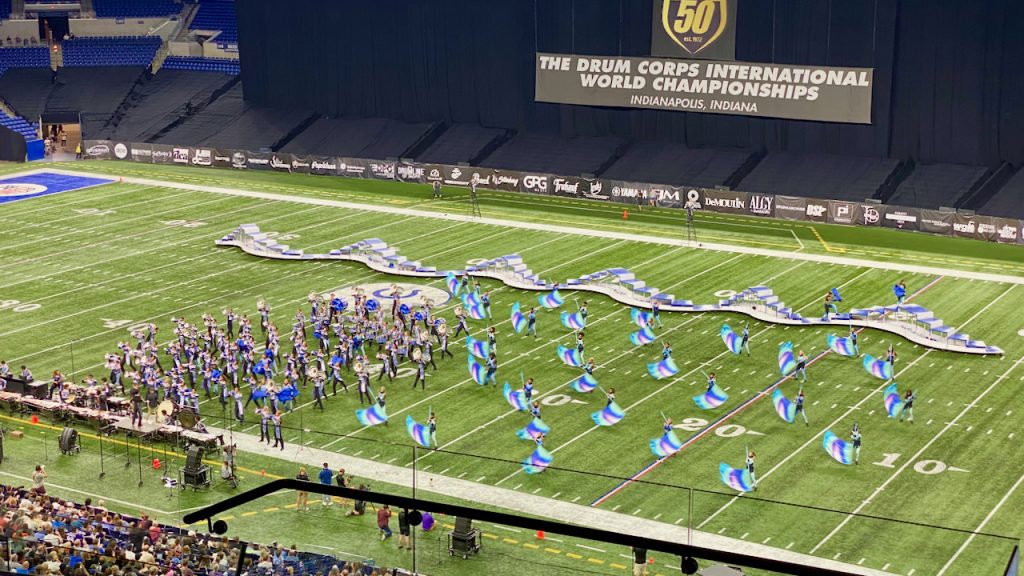 11:00pm
Ok, scores don't matter, until they do. The final scores have just been announced and yes folks, we have a tie for second place again. Blue Devils ran away with the gold medal with a score of 98.750, with Boston Crusaders and Bluecoats both going home with silver medals at 97.325. This is the highest score and the first time for a Boston Crusaders program to be in the medal and I am sure Boston nation will graciously accept the tie. It is the third year in a row receiving the George Zingali award for best color guard. Oh, how far this corps has come since their 75th anniversary back in 2016 when they barely squeaked into 12th place for finals. I had the pleasure and privilege of running away with the Boston Crusaders on their comeback year of 2017 when they took 6th place with Wicked Games. I will celebrate with them later in the evening once I put this blog to bed. I hope they are good with me wearing my Troopers' VorAcious tour shirt. Tomorrow, it is early rise for the airport to drop off the Martin brothers, my adopted drum corps brothers, then I hit the high side of the left lane on I70 East in the Grey Ghost II, my temporary loaner, a new Volvo XC60 B5 AWD. I'll try to catch up with you from the road. If not, I will along the Mill Brook in a couple of days.