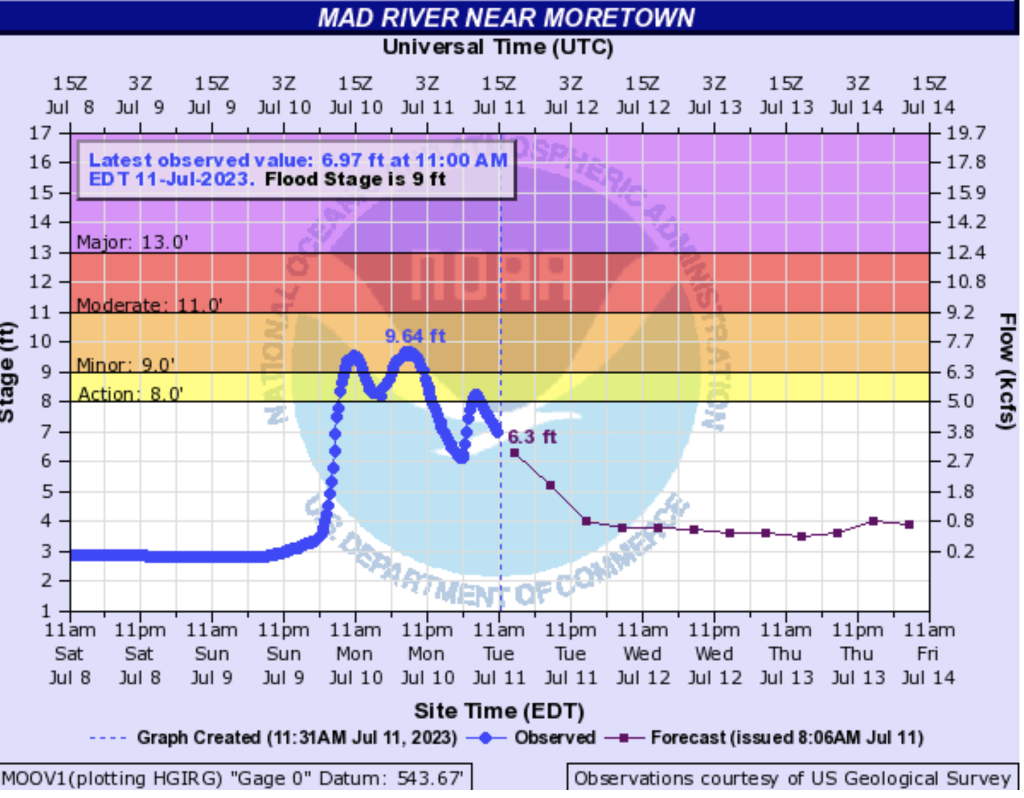 July 13, 2023 – Along the Mill Brook
When it rains, it pours here in this humble valley nestled in the eastern foothills of the Green Mountains. Our steep slopes and narrow valleys make for some exciting weather events. For us skiers, snow is our friend in the winter, no matter how much we get. Conversely, rain can be a challenge when it comes too much, too fast. The Mill Brook has been doing its job without incident since I returned home, shedding copious amounts of water off Mount Ellen, General Stark, Baby Stark, and Molly Stark Mountains. Much of Vermont has not been so lucky, especially our neighbors in Central and Southern Vermont. The Mad River is the recipient of this water that flows quickly past my house. Combined with the water from a dozen other major brooks on the Green Mountains and the Northfield Range to the east that girds our valley, this river can quickly be overwhelmed. So far, so good, though the forecast is for an extended period of severe thunderstorms that have begun to roll over the ridge in waves. As I am directly east of the 4,083′ peak of Mount Ellen, there are only a few minutes once you hear the thunder to take shelter. Thankfully, the radar gives us a good picture of what and when to expect it. The radar bodes well for us for now. Hopefully, we will continue to dodge the bullet, and I will head out on my Colorado adventure for Drums Along the Rockies tomorrow as planned.
Since returning from my Midwest tour, I have been an online junkie, watching videos and checking scores. This year is more competitive amid the rankings, with a few standout corps well up from their finishing rank in 2022. Phantom Regiment (5), Mandarins (6), Blue Stars (7), and Troopers (9) are on the move. There is one corps solidly in the place where we most often find it, first, the Blue Devils. The Cut-Outs is a highly stimulating display of art in motion to music with dance. And oh, that music and dance! I turned up the Bose system to max while on Flo during the ballad, which could be my favorite. Bravo. I will be at the 50-yard line, row 48, on Saturday to let that one really reach inside the thalamus gland. It is sure to trigger my built-in ocular watering system.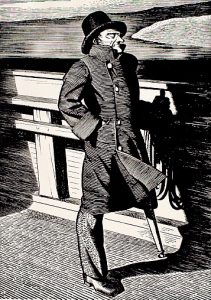 Boston Crusaders is currently edging out Bluecoats and Carolina Crown for second place in the rankings. It is still early in the season. I have heard and seen the Boston show several times now. Given my growing relationship with this extensive family, and watching this show evolve since spring training, it is hard not to be a fan of BAC and favor this show. However, this one is a winner. In music and movement, it tells an epic story of Captain Ahab's demise with passion and precision. The program is witty and emotional, with regular blips on the EKG chart along the journey. I will not tire of experiencing it again and again at seven more competitions and an unknown number of rehearsals. Saturday, they will perform head-to-head with the Blue Devils for the first time this season. It should be an exciting evening as BAC follows Blue Devils in performance order this night. This corps is due for a performance that will show the world what it can be. I feel it now, like the electricity in the sky outside. To quote Captain Ahab, "I know not all that may be coming, but be it what it will, I'll go to it laughing."