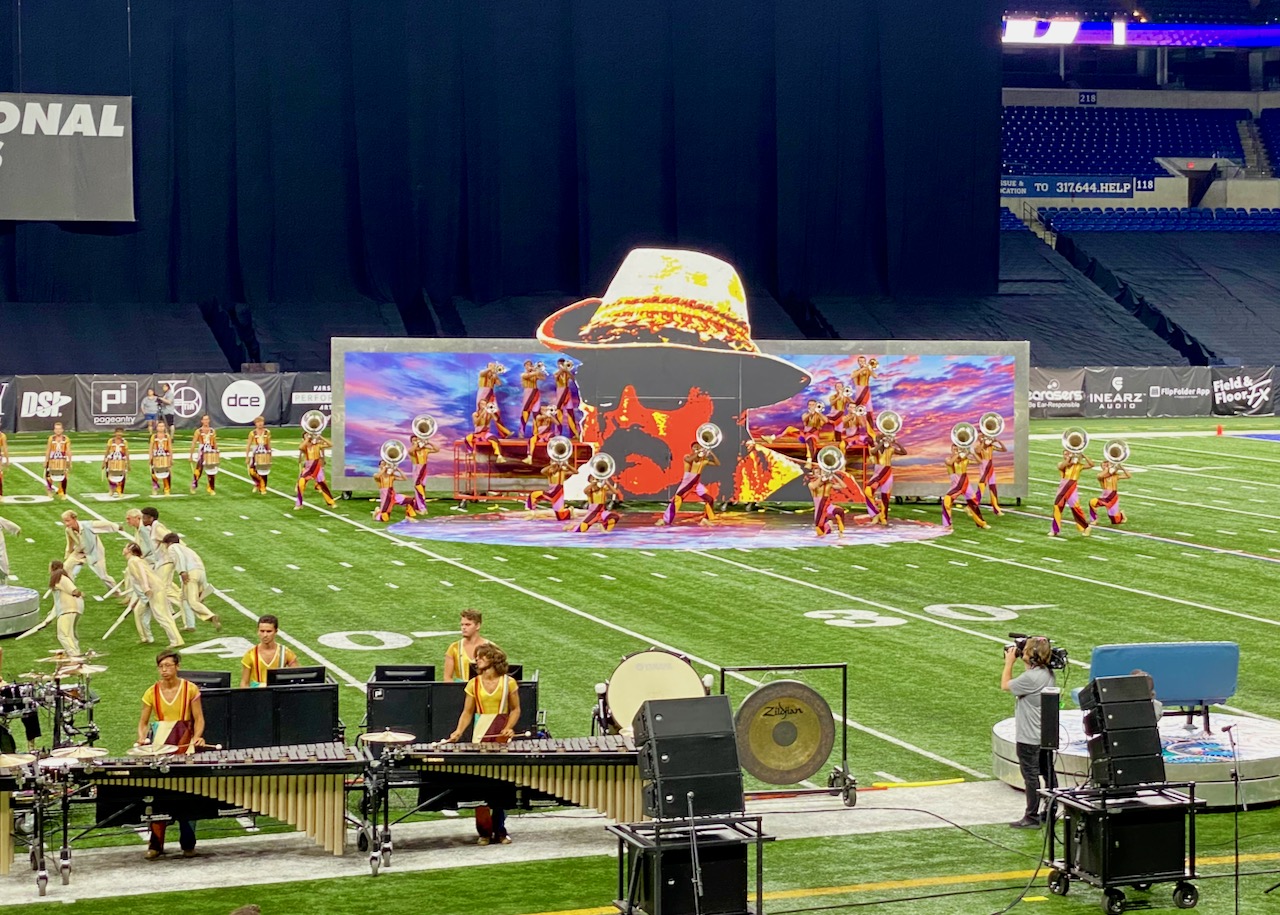 August 11, 2022 – Indianapolis
1:30pm
Let the games begin. I'm in Indianapolis, the Circle City for three days of world championships of Drum Corps International at the Lucas Oil Stadium. At this moment, I am in the clubroom in the center of the stadium in between shows of the open class corps. Later this afternoon, I will take my seat with Drum Corps World publisher, Steve Vickers. Steve hooked me up with one of his cancel guest's tickets for the preliminary championship. Today, thirty-five open class and world class drum and bugle corps from across the nation will perform in Lucas Oil Stadium, the first day of the 2022 DCI championships. I will not have the capacity to hang in there for that much stimulation, so I will head in at 4:30 to be sure to catch the top 20, including Pacific Crest. This corps has been on my watch list since the first day of DCI in San Diego back in June. Today will be my seventh viewing of Welcome to the Void. It keeps getting better. Meanwhile, I will head to Shapiro's Deli and join my friends for a classic Rueben sandwich, an Indy tradition.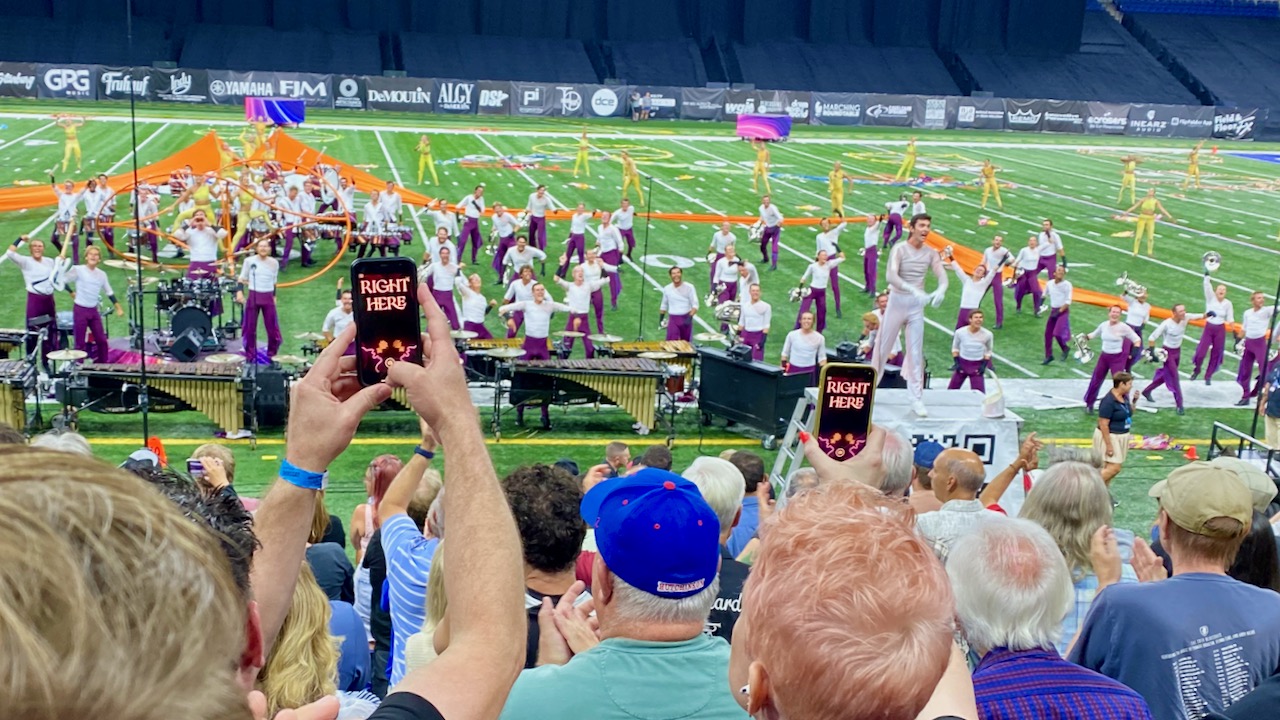 10:00pm
Whew!!! What an amazing evening of high intensity entertainment. I am spent! Once again, I had the privilege to be down front and center to enjoy the last 20 corps. I was near perfectly situated at the 49-yard line. Row twelve is the intense sound zone. It is also the intense visual zone for the drum major and front ensemble – the pit. Since I do not have the capacity to put into words the entire experience, or the time, I will focus on what really affected me. In a word, Troopers. I have written about this show in previous posts. At the risk of being repetitive, I wanted to try and express how intensely this show and the delivery affected me and the others around me. Of course, when I look around me in the stands at any show, I find many Troopers T-shirts. These were not the only fans that rose from their seats at the closer to collaborate in the powerful force of energy unleashed by this corps and their very compelling show – VorAcious. This is the part of the experience of drum corps that I find the hardest to explain. There are no words worthy of describing the synergy between the fans and the corps that causes such an explosion of emotion. As the entire corps converged in a scrum front and center belting out the hugely powerful climaxing chords, the drum major turned to the people in the stands, knees slightly bent, hands outstretched palms up and pulling the toward himself, with extreme agony in his facial expression as if he was saying, "Come on, don't you get it?" Our voracious addiction to fossil fuels, and the attending climate change is clearly and issue that these young members are faced to address, because my generation is failing to. This is the best of drum corps for me when a powerful social statement is delivered to not only entertain us, but to wake and shake us up, too. As I looked around me the glassy eyes and wet cheeks of others gave me comfort that I was not alone. My eyes were shooting droplets like sparks.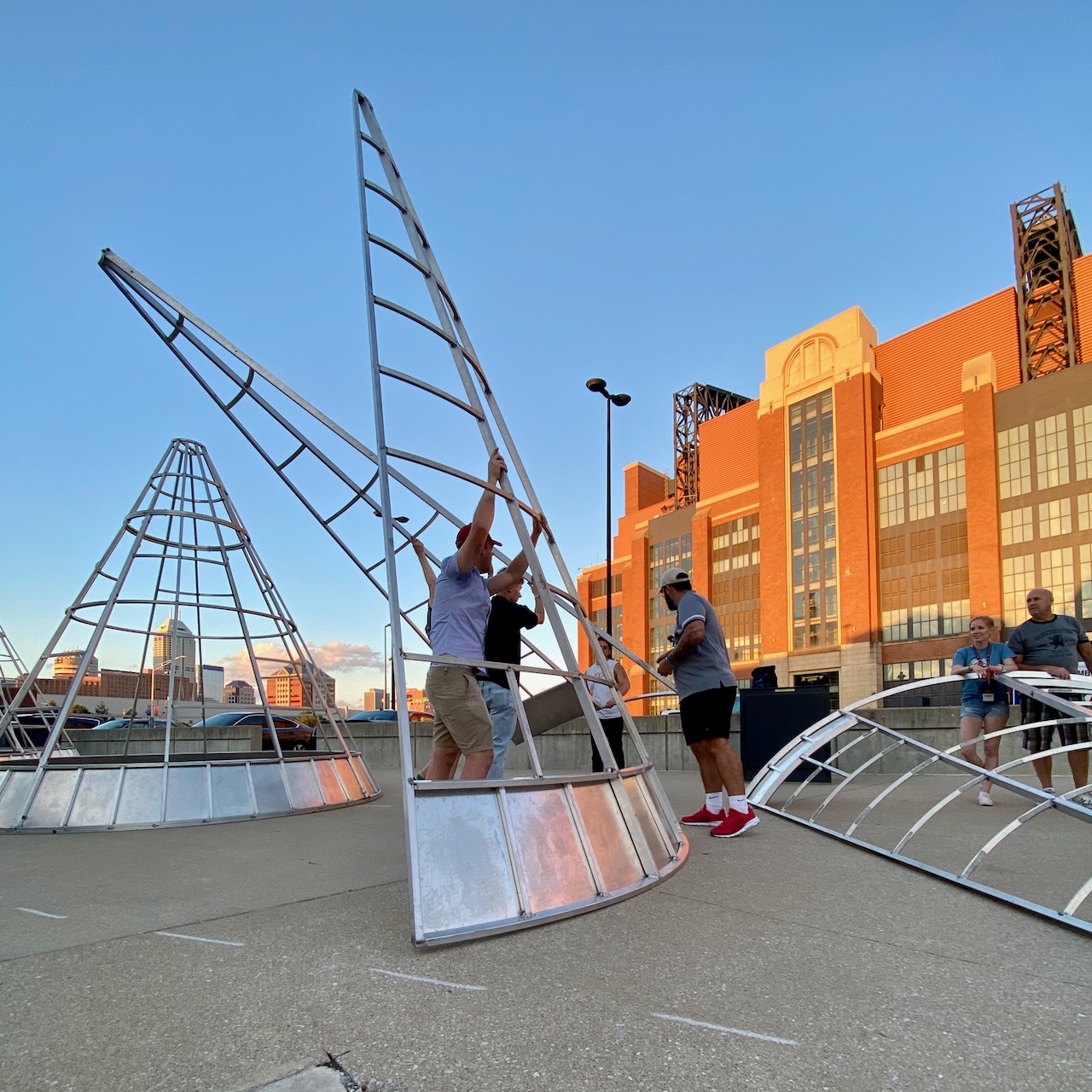 It was difficult for me to recover from this experience, so up-close and personal. The corps that followed failed to capture my attention in the same compelling way, showing my weakness as a human, lacking the capacity to properly process that much and more stimulation for a while. I regained my consciousness for the final fleet of corps of this marathon drum corps competition or 14 hours. The surreal nature of being in the epicenter of was compounded by the Bluecoats surreal depiction of a trippy dream set in the 70's. This was my drum corps decade. I would have never envisioned such a creative show back in the early seventies when I marched with my brother. Shaking off the flashbacks, I fully intended to be in the present, right here, right now, for the next corps – Carolina Crown. After witnessing their show in Allentown, I was psyched to see it, and HEAR it again. Oh, that wonderful sound. Next up, the Boston Crusaders, very much in the hunt for a medal. Coming off a less than stellar performance at Allentown and being rained out in Akron where there was a final head-to-head with Bluecoats and Carolina Crown, it was undetermined and less assured to be achieved this year. This corps has been on the move since Wicked Games in 2017, taking 6th place, up from 12th the previous year, just eking out a place on Saturday. There are many Crusaders Nation members who are very excited to be in this position and the innumerable corps records that Paradise Lost has broken. The final corps of the evening, the Blue Devils, perennially ranked number one, did not shrink from their task of maintaining that ranking.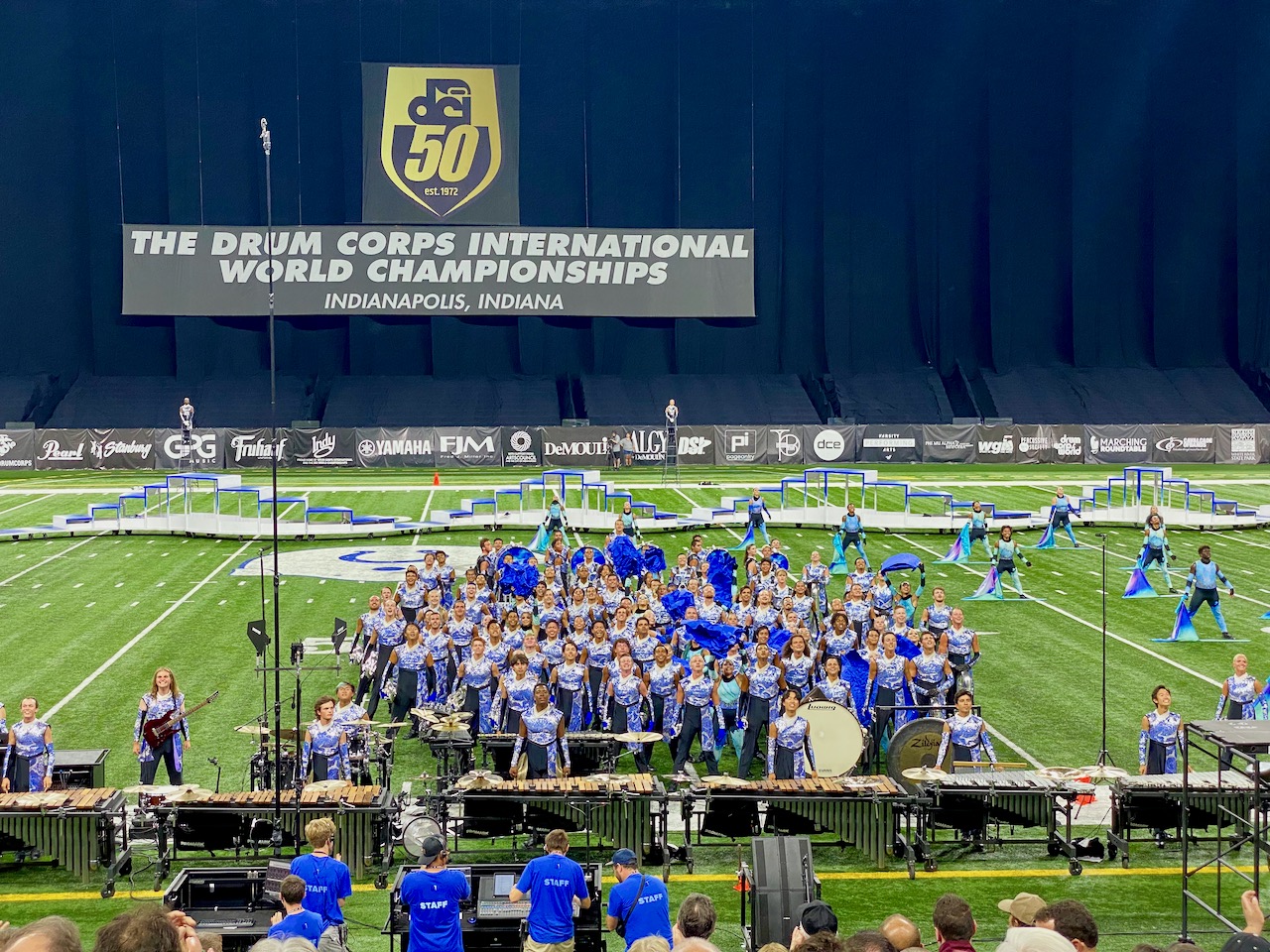 The scores have been announced and some places have changed. BAC remains the second-place finisher, Bluecoats rose to third with Carolina Crown dropping to fourth. The Troopers jumped up to 12th place with hopes of hanging on to that on Friday to be able to perform their compelling show on the Finals competition on Saturday. I hope so too, because that will be the next opportunity for me to see the show. Since I do not have a ticket to Friday's show, my plan is to head to Military Park, about eight blocks away from the stadium, to watch the corps' horn lines and drumlines warm up.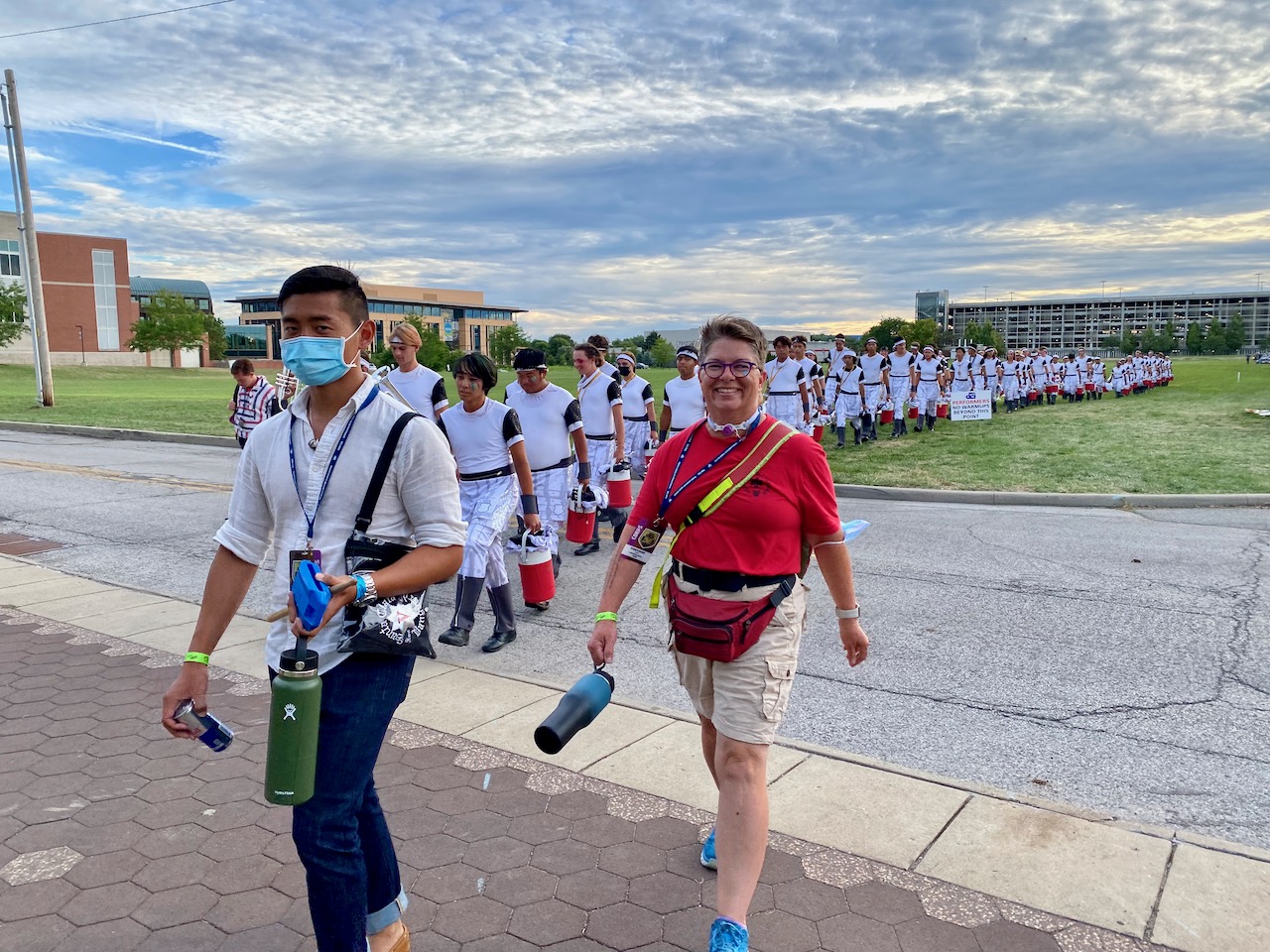 August 12, 2022 – Military Park, Indianapolis
In this expansive space, close to 3,000 young performers will stretch, huddle, drill, and go through a routine of warm-ups on horns and drums in preparation for showtime. I have my packable chair, a bottle of water, my computer and iPhone (camera) and am camping out for the evening. As I sat here under the shade of a pair of trees, facing one way, the Cavaliers horn line began to assemble behind me. My clue was the number of people walking toward my location looking curious, causing me to turn around in surprise to discover them assembling with in feet of me. They began their stretching routine in concentric circles, the coach in the middle metering out the move commands. A metronome is applied later as they marked time in place, and then marched in rows of five, approximately 10 paces, horns raised then lowered, first forward, then backward, then sideways, one way then the other. Even this preshow activity is done with unity and precision. This up-close moment really puts you in their shoes vicariously. Oh, to be 19 again. And what a nice look at the uniforms.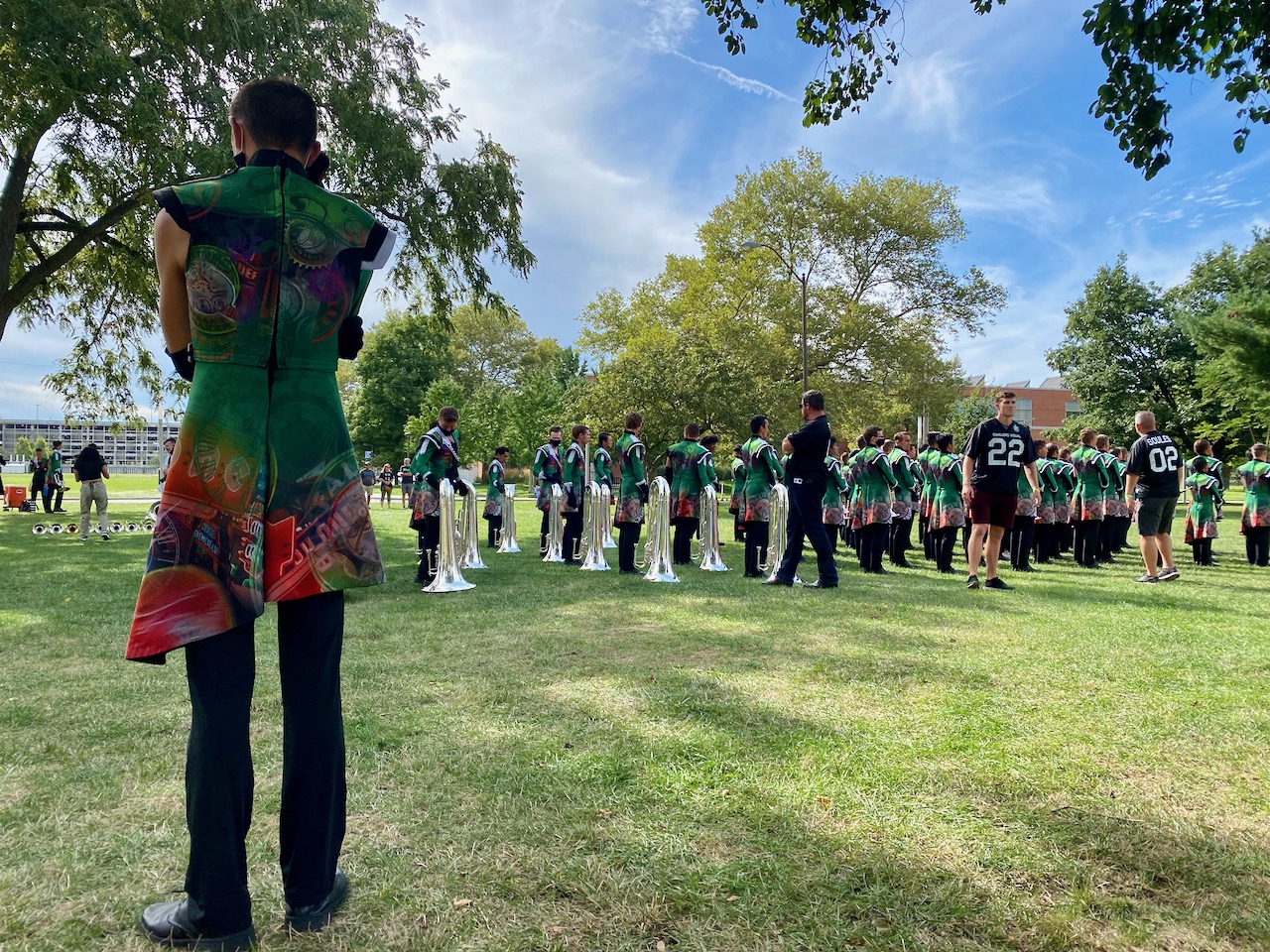 The Cavaliers corps is the only remaining all male corps, an outlier in the activity that has had a growing number of female performers in drums and horns. And a growing number of female instructors and directors. Earlier today, I had the pleasure of attending a 50th anniversary breakfast celebration for Drum Corps International. Master of Ceremonies, Steve Rondinaro, did an impromptu interview with Sandra, a horn instructor of the legendary Aragorn Rebels back in the early years of DCI. Steve and Sandra related the story that she did not want anybody to know that she was instructing the horns because she feared that the judges would not score them fairly. Oh, how I am glad that the times have changed. Having three daughters and countless women friends that I have a great deal of respect for, I know their powerfully strong attributes that contribute greatly on all levels of our society.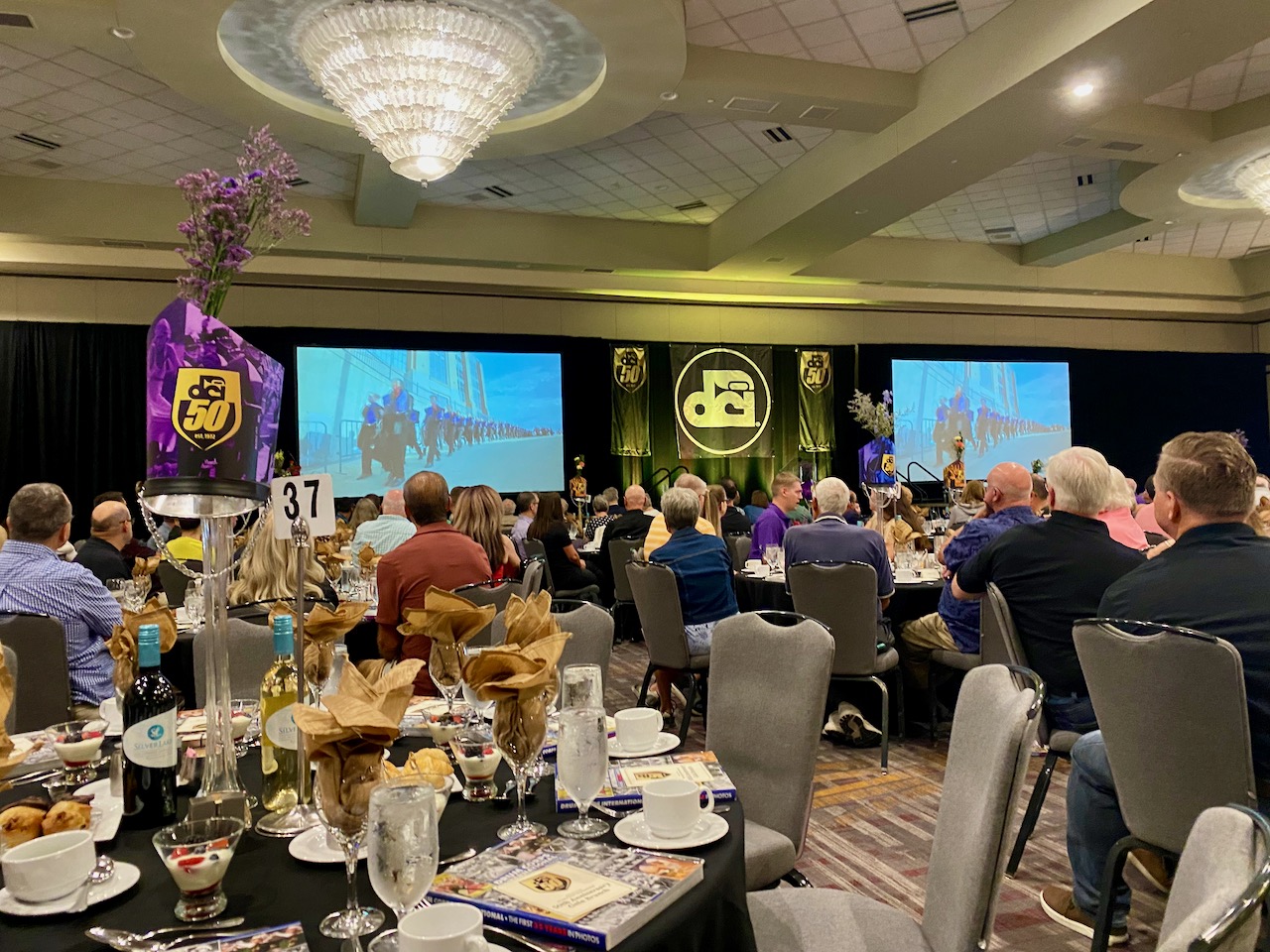 11:30 pm
The scores for the evening preliminary finals have just been announced. There is a tie for second place between the Bluecoats and Boston Crusaders. The Bluecoats have gained two placements in the rankings since July. The Blue Devils are in first place solidly. This is getting very exciting. I will keep you posted.