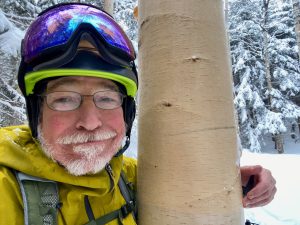 Kevin Russell
Kevin is an ardent music appreciator, teacher, occasional blog writer, and ski bum. When he is not on the road following the World Class DCI (junior drum and bugle corps) in the summer or in the Green Mountains hiking or skiing, he is:

Formerly:
Stark Mountain Productions – provided creative writing, graphic design, print production, public relations, and media services to government agencies, non-profit organizations, and socially responsible businesses. Retired.
Community Development Services – provided planning services, public outreach, and project management, specializing in bicycle and pedestrian facilities, trails, and greenways. Retired
Currently:
Drum Corps World – contributing writer and photographer.
Clearwater Sports Outfitters and Guide Services – outdoor guide.
Sugarbush Resort, Warren, Vermont – ski instructor. (retired)
Harwood Union Unified School District – substitute teacher and assistant golf coach.
Community Service:
Hemlock Hill Trail – trail steward.
Mad River Valley Planning District – Transportation Advisory Committee.
Mad River Valley Backcountry Coalition – Board of Directors, Secretary.
North Country Trail Association – Board of Directors, Vermont.
Friends of the Number Nine Schoolhouse
Other: