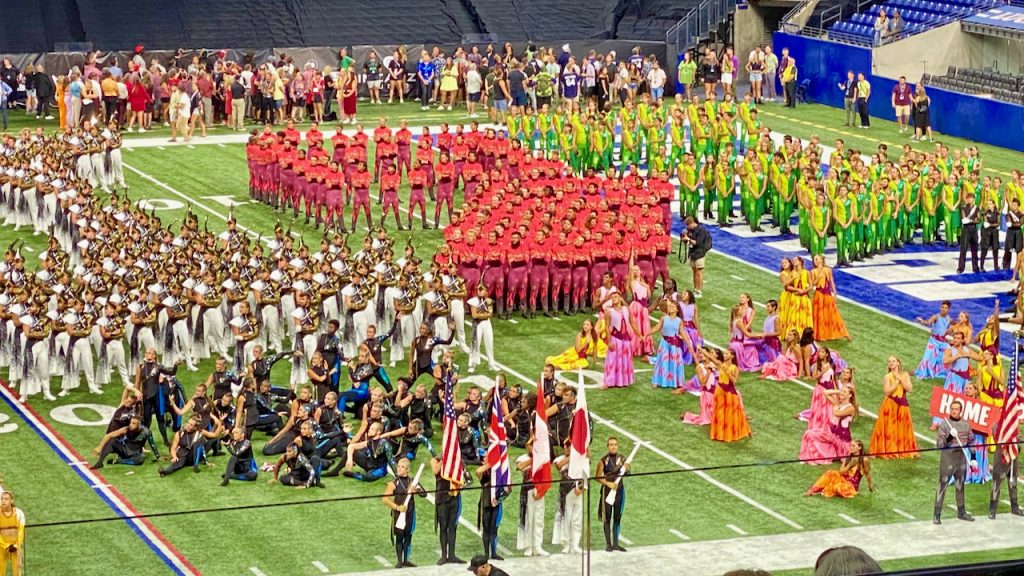 August 16, 2023 – Along the Mill Brook
I did not need audio on the way toward home from Indianapolis Sunday morning. The musical repertoires ingrained from weeks of intense listening to 2023 DCI drum and bugle corps shows rang in my cranium. The heavily exercised thalamus gland that houses the pleasure button and the trigger to my tear ducts was again fully engaged as I sped along in the left lane. These were the days that mattered. The experience of the DCI tour these past 14 days defines what is good and worthy. The past three days being a veritable love fest of fans, friends, and family who converged to watch, listen, and feel the most incredible youth performing arts activity on earth. I was there to soak it all up.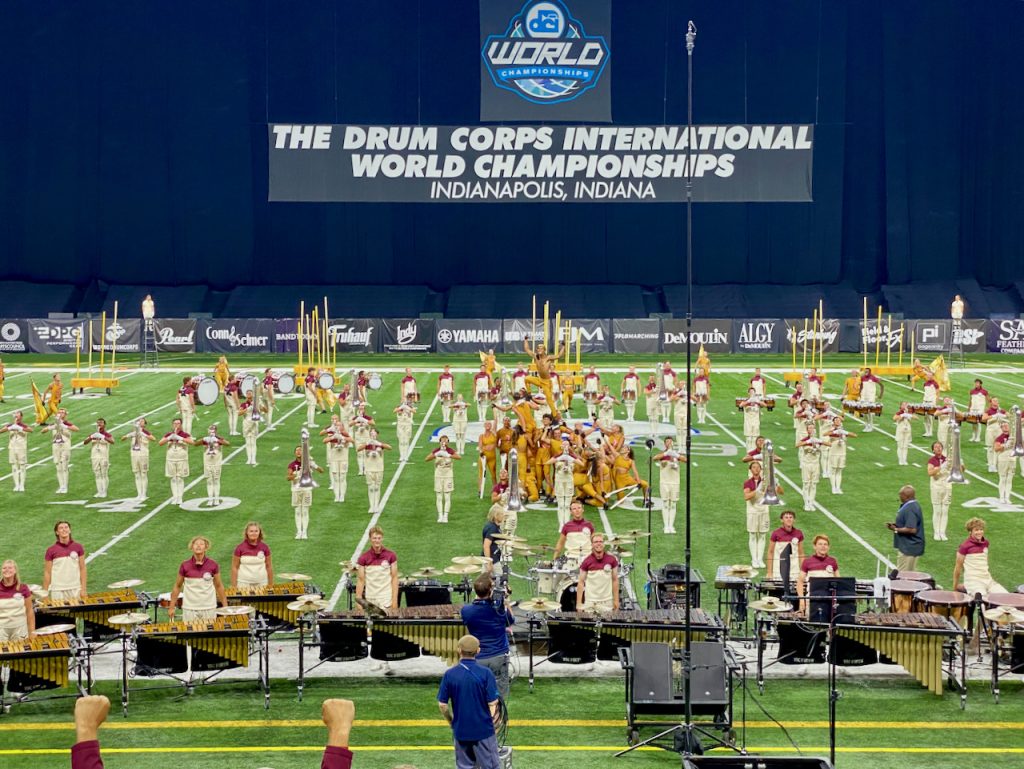 I fully appreciated the gamut of show themes that were presented. Drum corps today is not like it used to be, even though some elements are hard to shake. And catch such as the sabers and rifles that were once part of the formal military style color guard that was customary during the pre-DCI days of drum corps. It is incredible what they do with them today. My favorite show depicted a literary standard. One show, Where the Heart Is, exemplifies that wherever you are, as long as you are with those you love, you are at home, especially if you are on the road with drum corps. Other shows depicted art, poetry, sin, rising above, personal struggle, triumph, tragedy, conquering climate change, and the side effects of a banned alcoholic beverage. Yup, I saw green ferries at almost every drum corps competition in person and on the Flo. Bravo!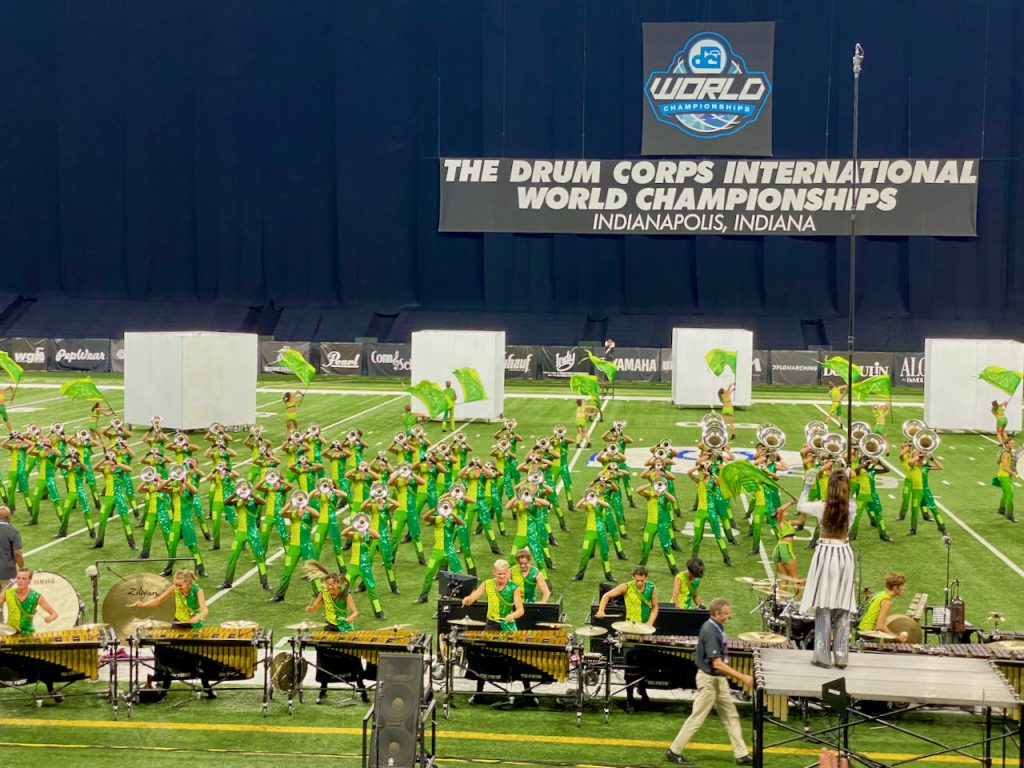 Memories of people and pageantry continued racing through my head as I traveled along the interstate route alone in my 5-cylinder marvel, the Silver Bullet. To enjoy drum corps fully is to be in the stands for a live show. That requires traveling by plane and car. If you have followed my DCI stories these past seven years in my blog and Drum Corps World magazine, you will have endured the stories about my Volvos that have transported me along the way. I am comforted to have had the unwavering support of such a fine car and brand. The Silver Bullet purred the whole way to Indy and back with its new lease on life, achieving a maximum mpg of 25.4 while touring the dollar store routes, the two-lane roads that connect our communities.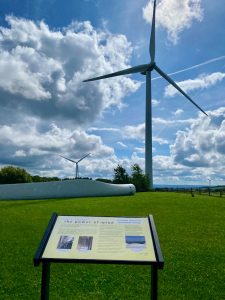 After staying with my sister in Ithaca, I chose such a road, NYS Rt. 13, on Monday morning to visit my other sister in Clinton, NY. The fast lane was left behind, and I again enjoyed the rolling hills of New York's heartland. Unbeknown to me, I was traveling along part of the Renewable Energy Trail, an identified corridor across the state dotted with wind farms and solar orchards. Nostalgia overcame me when I crested a hill near Peterborough, NY, a small hamlet in Central New York. Sixty years ago, my father was involved in radar development for the Air Force, and a testing site for his work was on this hill. Peterborough was also the home of Garrit Smith, a philanthropist and abolitionist. He denied himself and his family in order to give to others—a remarkable story to be learned by walking the grounds of the former mansion.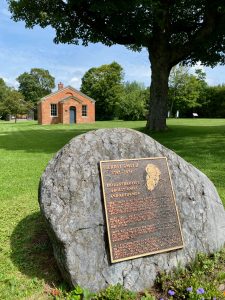 After two days of travel and visiting my two sisters, I arrived back here on the Mill Brook. The constant rain has kept it running fairly full. This is quite unusual for this time of year, the dog days. There are summers when it is almost silent as it trickles slowly through the rocky bed. Now it has a loud din, falling fairly fast and full down toward the Mad River. Our soils are like a loaded sponge with no more absorption quality, so that any heavy rain storm can spell a catastrophic flash flood. With the tropical storm season just beginning, we are again sitting on a powder keg of potential destruction. Ironically, this has been the best season for outdoor drum corps, with only a partial interruption in Canton causing three corps to perform at a standstill. All eight other shows I attended were perfect weather for drum corps. I am blessed.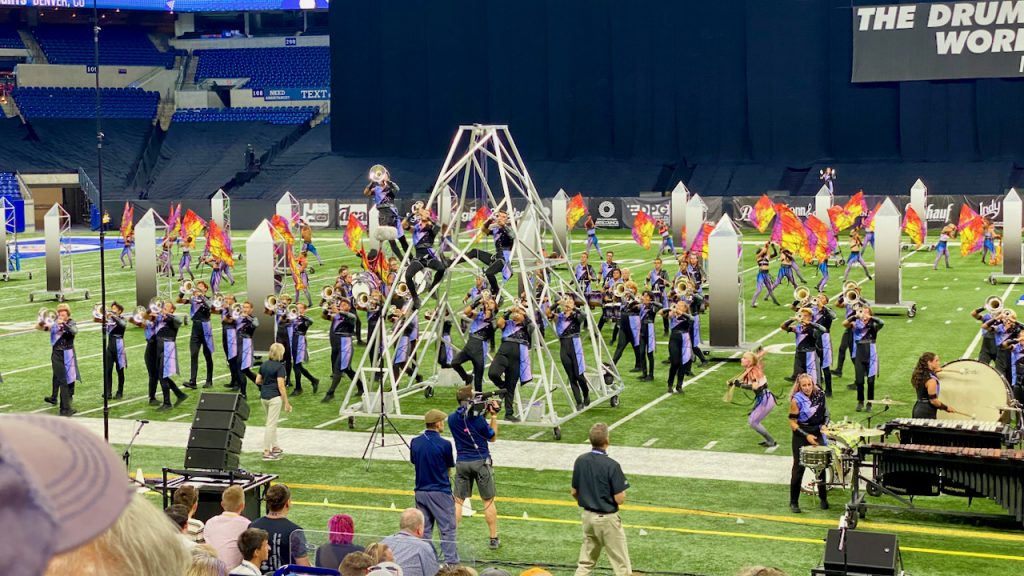 Another area where I am blessed is the people I have met and the friends I have made along the way on my drum corps journey. This is the biggest takeaway. Some of them are actually my biggest friends. 🙂 Moms, dads, grandparents, alumni, volunteers, staff, board members, fans, security, and police all participate in the endeavor and are all very approachable. Thank you, Officer J. for assisting me with the west gate debacle.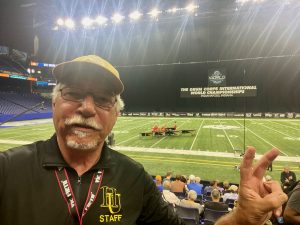 I have had the pleasure of writing about this fantastic thing called DCI, chronicling my tours of shows and the final Championships for the past seven seasons. Contributing these blog entries to Drum Corps World and sharing them with a larger audience is a special privilege. I revisit a slice of the tour each month in the off-season. I thank Steve Vickers, Publisher, for his support and encouragement. I continue to reassess my purpose. Am I writing to go to shows, or am I going to shows so I can write about them? What am I actually writing about? Drum corps, my car, the weather, climate change action, the kids, the adults, music education, cheese, me? Like a good drum corps program, a lot is going on. But it is mostly about me, just a summertime drum corps fan who happens to want to share. Time to focus on the golf team, my two non-profit boards, guest teaching, and lots of hiking. Skiing is just around the corner. Thanks for reading.
Kevin Russell