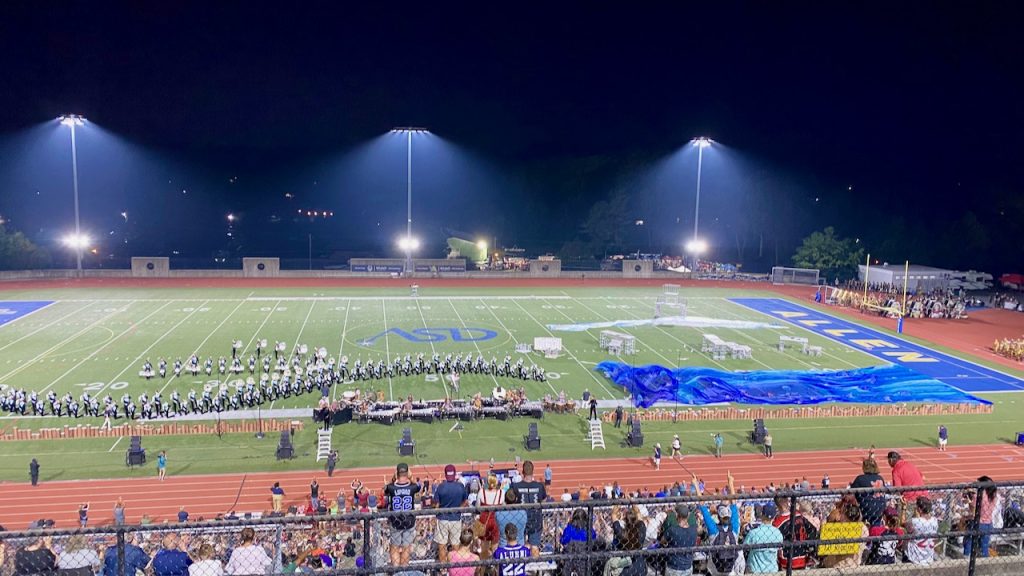 August 7, 2023 – Monday of Finals Week
I am woefully behind in keeping you posted on the excellent drum corps shows I have witnessed in the past three days while in Pennsylvania. As unsettling as the weather has been lately, I have been blessed with three fine evenings in a row for two shows in Allentown and one fine show last night in Pittsburgh. Each year now, my tour is more of a social experience as I meet more and more new people. Spending time to catch up and enjoy some pre-show or post-show merriment with this increasing number of friends, I have not had the time to keep up to date with my chronicles. Sorry about that.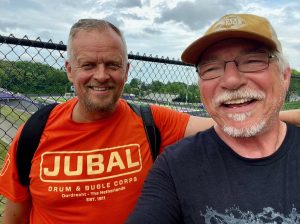 Day one at Allentown was just such an experience. I took my seat in the stands. This night, I would be high up in section R at the 40-yard line on the isle. Next to me sat Donny. We were surrounded by ardent and seasoned drum corps fans, each with their own opinions that were generously shared about electronics, scoring, wow moments, etc.. As we settled into the evening, we counted our blessings to be in that place at that time to witness the extraordinary magic of Allentown. I have written about this before. There is something about that place, at that time in the seasons, that gives the kids the awesome power of confidence and performance ability.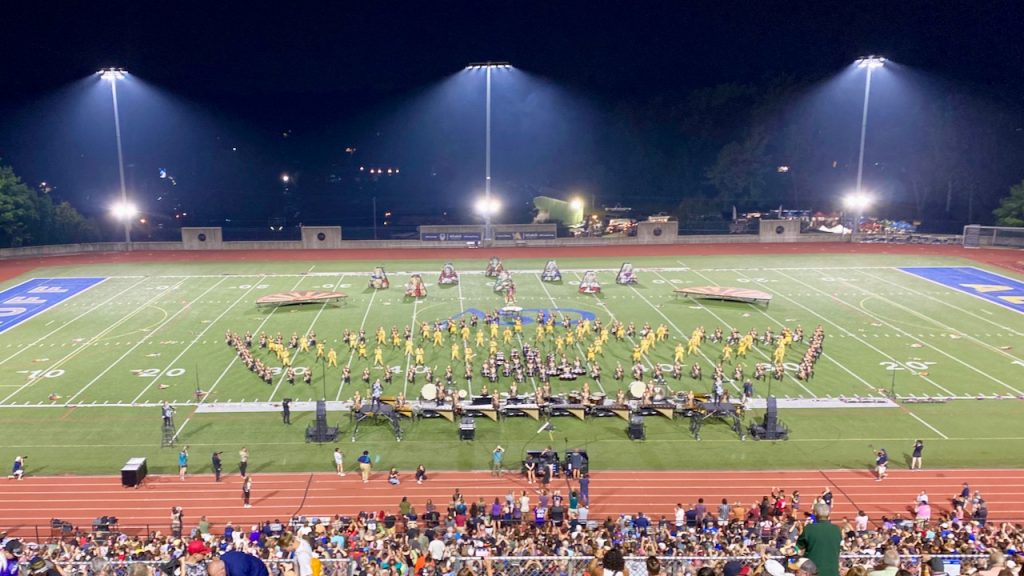 A late arrival by the Seattle Cascades due to a transportation issue caused the schedule to be rearranged slightly, and the intermission was canceled to keep the show on schedule to end on time. This was the only hic-up in the otherwise flawless organization by the DCI team and the corps. It continues to amaze me how quickly each corps enters and exits the field with their regalia of props, instruments, speakers, consoles, mics, and you name it, they bring it. Often they are meshed and weaved together as they come and go, looking like a traffic jam. But, before you know it, the announcer breaks into our audience repartee, "Drum Major Sean Kelly, is your Corps ready?"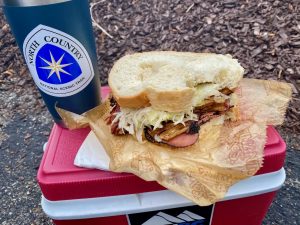 Day one concluded with rousing performances from each corps, culminating in the final two corps rare head-to-head, Blue Devils and Bluecoats. Blue Devils maintained a slim lead as they turned the energy dial to full. Bluecoats continues to reach out of the envelope with riffs and moves that fired synapses in my brain that I did not know that I had. But before that, I want to shout out that the Troopers have positioned themselves to finally lasso the sun. I am often asked who is my favorite corps. Hard not to answer the one that has had the most impact on my life experience – Boston Crusaders. What is my favorite show is another question altogether. Last year it was Voracious. I am so happy that the Troopers Oil Corps has gone solar.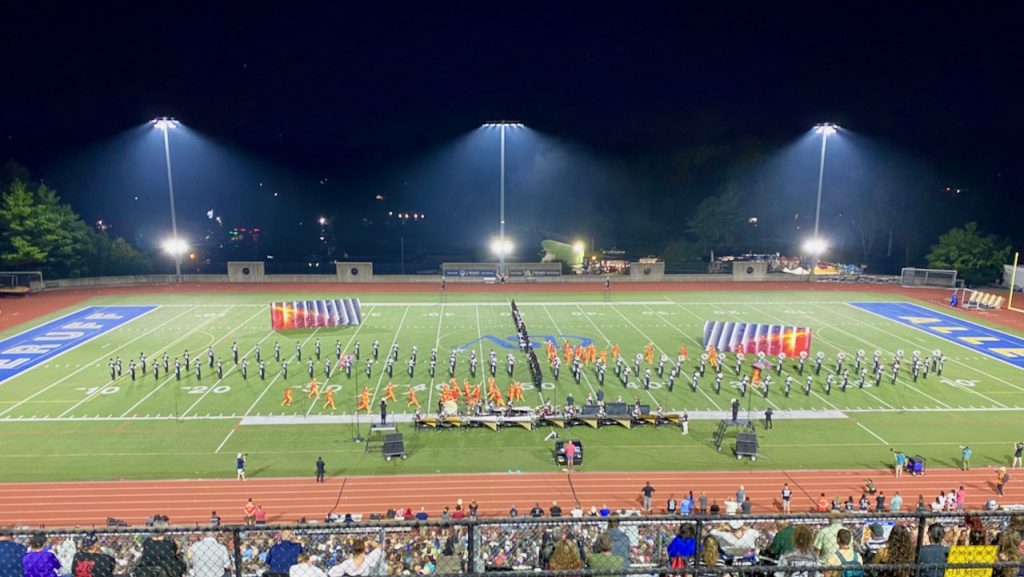 Day one ended with a rousing back-and-forth and score analysis by those lingering in the parking lot. Everyone has an opinion. Many of these folks opinions are well-founded by their seasons of drum corps experience as performers, instructors, and judges. I have opinions based on the sparks that fly off the back of my neck and the tears that run down my cheeks. This day was in the books, and my road-weary, overstimulated thalamus gland hit the mattress—time for the subconscious to take over and process what I had just witnessed.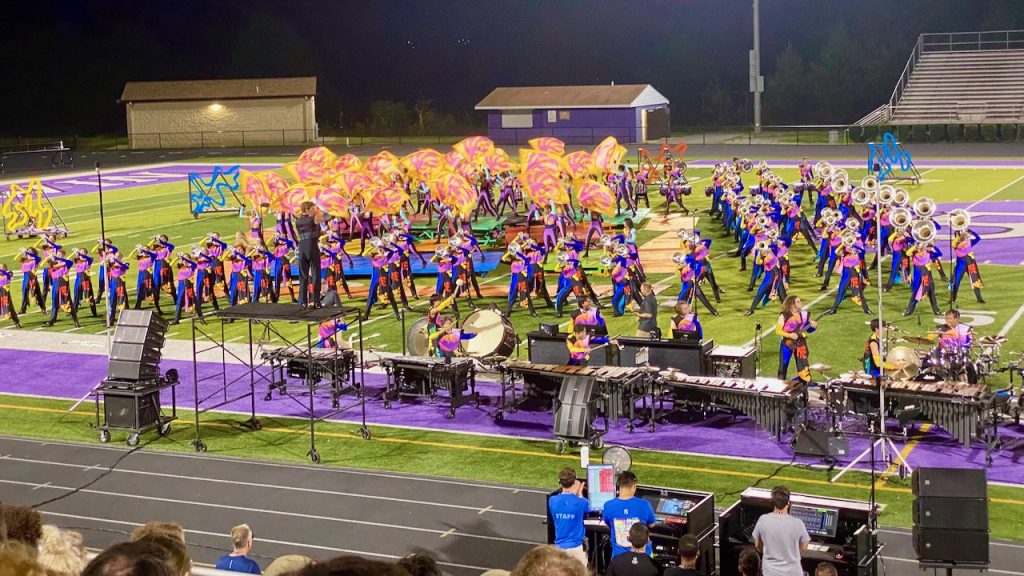 Day 2 Allentown was much the same but with different characters and corps. This evening, the head-to-head match-up of two of the top four ranked corps was Boston Crusaders and Carolina Crown. By a slim margin, Boston had their first-ever Allentown win. Prior to the show, I had the pleasure of hitting the Fox Hollow golf course a few miles from Allentown with friends. I had thrown my clubs into the box on top of the car. Since this was not a travel day, it was a pleasure to leisurely cruise around a beautifully landscaped environment in a golf cart rather than rocketing across the landscape on the concrete corridors at breakneck speed. Though my game has seen better days, this experience was pleasurable. I plan to have another round or two before my tour ends. Golf is a legitimate outdoor sport that offers an excellent opportunity for exercise without knowing it. Talent, time, and temperament are the ingredients for good golf. I have not been putting in the time, so temperament can be challenging. I have enough good shots that it encourages me to continue to play. When I return from my tour, I look forward to my fall gig – coaching our high school golf team.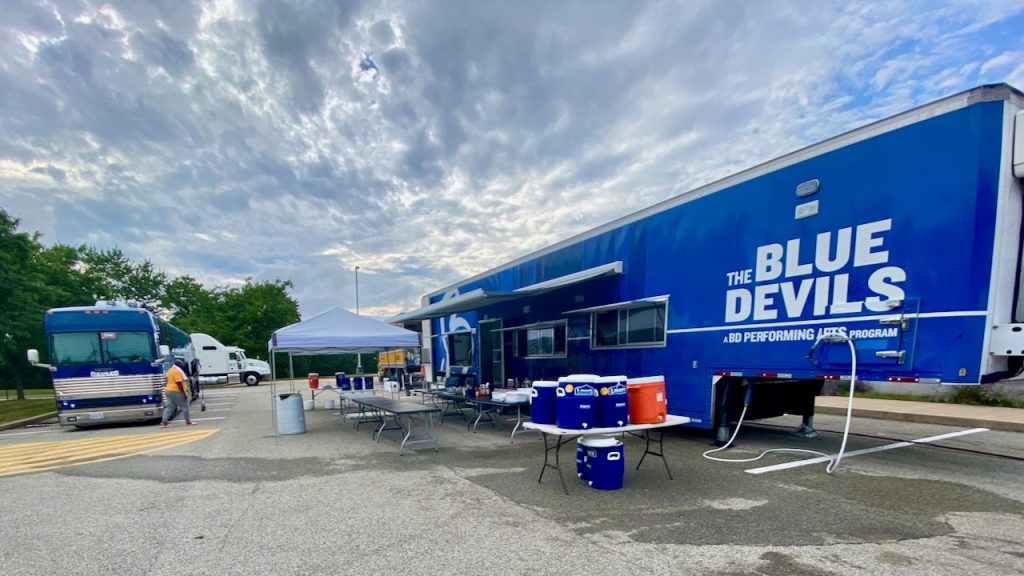 On Saturday in Allentown, drum corps excitement begins a little earlier. I headed directly to my parking spot at the HamFam Restaurant, where Garry had saved the spot. The pre-show merriment ensued, with several other folks stopping for the annual hellos and hugs. Once again, we ascended the hill and took our seats to be treated to one of the best drum corps shows ever. Each corps stepped up with sureness and confidence. Drills and riffs are honed and automatic, allowing each member to add that extra level of performance art. The marching movements snapped and blossomed perfectly to the various tempos and musical moments. The later corps wowed us with innumerable tosses and combinations of members doing crazy things together with rifles, sabers, flags, and each other bodies. Today's color guards are more like gymnastics, dance troupes. At the end of the day, Boston edged out Carolina Crown, garnering the top color guard and percussion scores. Carolina Crown keeps the high honors in brass. The race in the middle of the pack was particularly tight, with Cadets edging out Mandarins and Phantom Regiment by 0.05 points. All in all, we had a fine time in Allentown.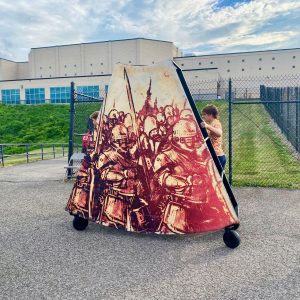 The Pennsylvania Turnpike was established in 1940, making it America's first super highway. That was the route that I chose to head to Pittsburgh Sunday morning. They wrote about this at the time: An unbroken ribbon of concrete cutting through mountains and across valleys, bypassing towns. No stop signs, no intersections, no need to worry. I often worried due to the narrow, shifty lanes through construction areas. A semi-truck is 109″ wide, which leaves scan room between me, the concrete wall on one side, and the truck on the other. One does have to marvel at the engineering feats of building the road with the tunnels and thousands of bridges. It is a constant work in progress. I made the trip to Baldwin High School, but first, it was time for dinner, so I stopped at Primanti Bros. for a sandwich. Oh, what a sandwich it was! Fully satiated, I headed to the show for another fine evening of drum corps. A packed stadium was on hand to observe some of the best kids in America entertain them to delight. And they showed their delight with frequent audio outbursts and cheers throughout each performance. This was another opportunity for Carolina Crown to nip at the Blue Devils ranked number one. Both corps once again performed their highly entertaining shows with precision and power. But, before that, we all enjoyed the Cavaliers' performing their show Where You'll Find Me, Cavies style, with lots of hot percussions, powerful brass, and snappy drills. I also thoroughly enjoy the first three corps that set the tempo. Back from dormancy following covid, Seattle Cascades stepped up first, with Spirit of Atlanta and Blue Knights to set the tone for this fine evening.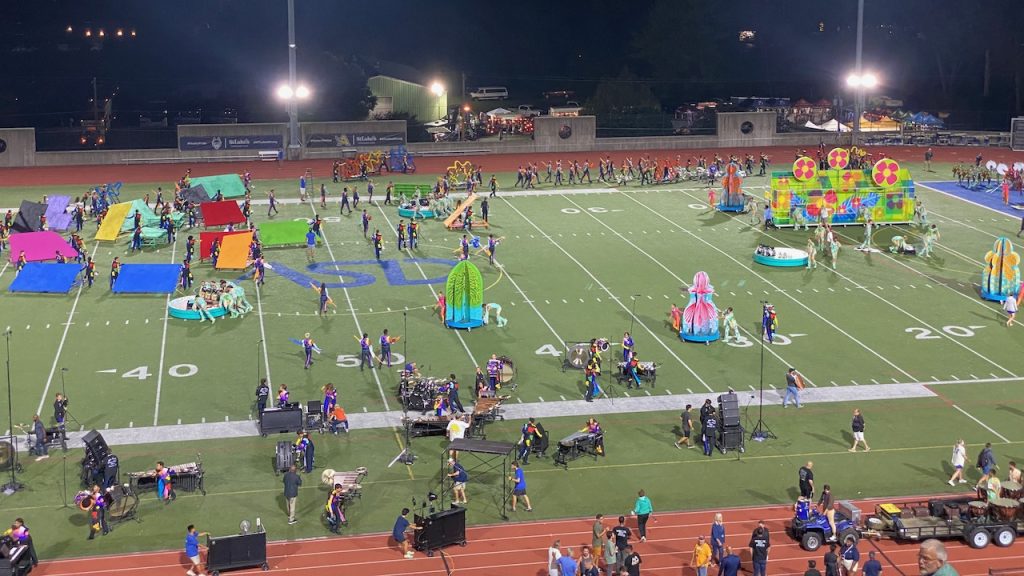 Today was another travel day. I am just outside Canton, Ohio, in this lovely park—a fine place for my bagged lunch and to get you up to speed with my tour. I chose an alternate route from Pittsburgh than I had planned because Siri offered a route not in the tornado warning area. Just what I need. The forecast to the north looks good now. We might get in my last outdoor drum corps show this year. Wish us luck. I will make sure to keep you posted.