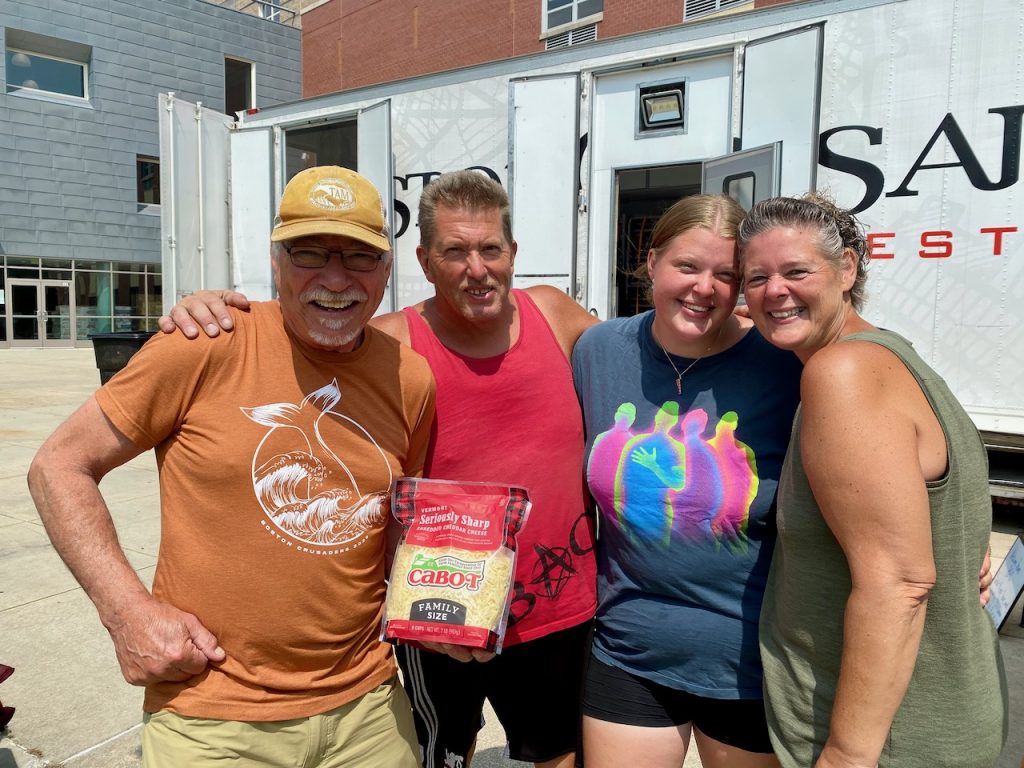 August 3, 2023 – 9:00 am Boston bound.
Well, I am on the road again. Yesterday, I detailed the Silver Bullet and loaded it up for my two-week tour of Drum Corps International competitions. First is the Boston Area Show in Lawrence, Massachusets. The Boston Crusader will host a smallish show with only three other world-class corps, the Mandarins, Phantom Regiment, Bluecoats performing tonight. However, this will be a big night for BAC; a head-to-head race between Bluecoats will be determinative.
Leaving my slice of paradise on Mill Brook in Vermont's Mad River Valley on such a perfect summer day took the edge off my excitement about the miles of travel, fun with friends, and awesome entertainment ahead. How many more summers will I be able to do this lark thing? The thought of sitting in my fold-up chair with my feet in the brook, sipping a cold Heady Topper, was compelling compared to the multi-lane mania that lay ahead. I chose the two-lane road of Route 100 to start my journey, but soon up over the Braintree/Northfield Range, I was on the concrete rat race I89. Taking a leisurely pace and obeying the speed limit allowed for a stress-free cruise as humanity whizzed by on my left. I know this approach will change as I get further along on my tour, and soon I will be in the aggressive lane.
I could not be happier with the performance of the Silver Bullet. This car has a storied past. You may recall that my 2008 Volvo broke down just outside of Pittsburgh while on tour in 2018. With the luck of the Irish, I was six minutes from Bobby Rahal Volvo in Wexford, so I nursed the car there at 1:00 am and slept in the lot. The next day, the team worked magic to get me to Akron with a suitable replacement, a certified pre-owned silver beauty. The dream continued until a fateful day on the way to the show in the Boston area early last summer when the engine began to complain roughly. The diagnosis was that the engine was in need of replacement, and due to Volvo's integrity, they installed it under my extended warranty. In addition, the dealer provided me with a free brand new Volvo for a loaner that I took on tour last year. So, I am very happy to be in the good old boy as we both cruise along at a grandfatherly pace. Indy or Bust!
2:00 pm – Veterans Memorial Stadium
In front of the stadium, I'm in the park, distracted from writing by the drum corps enthusiasts sitting with me under the shade of a mature oak tree. Earlier, the drum line battery was in their section blocks, and then an ensemble warm-up and rehearsal of a showpiece with changes. Colin McNutt is fashioning a world-class percussion ensemble, scores climbing each year since Wicked Games when BAC and the new drumline woke up DCI. Next, the brass arrived under partly cloudy skies, each section spread out across the park and went through the usual warm-up regimen. An airy breeze provides a comfortable feeling for the East Coast Showcase this mid-summer day.
Before the show, I will be meeting up with Mary, my hiker, and skier friend, for dinner. Mary was the person who connected me with my piano. She was helping her piano teacher move into assisted living, and he needed to sell one of his pianos. I used to live alone, but now I have a Steinway. She will join me for the show, too. She is a frequent visitor in my guest room along Mill Brook when she comes to ski and volunteer with Vermont Adaptive Ski and Sport.
Earlier this morning, I dropped off some seriously sharp cheddar to provision the corps. This gave me a chance to say hi to Rob, who is on a volunteer vacation with his wife and daughter from the Netherlands. The chance to work morning, noon, and night alongside with others to feed and care for one hundred and sixty-five kids with a very high-calorie demand is too good to pass up.