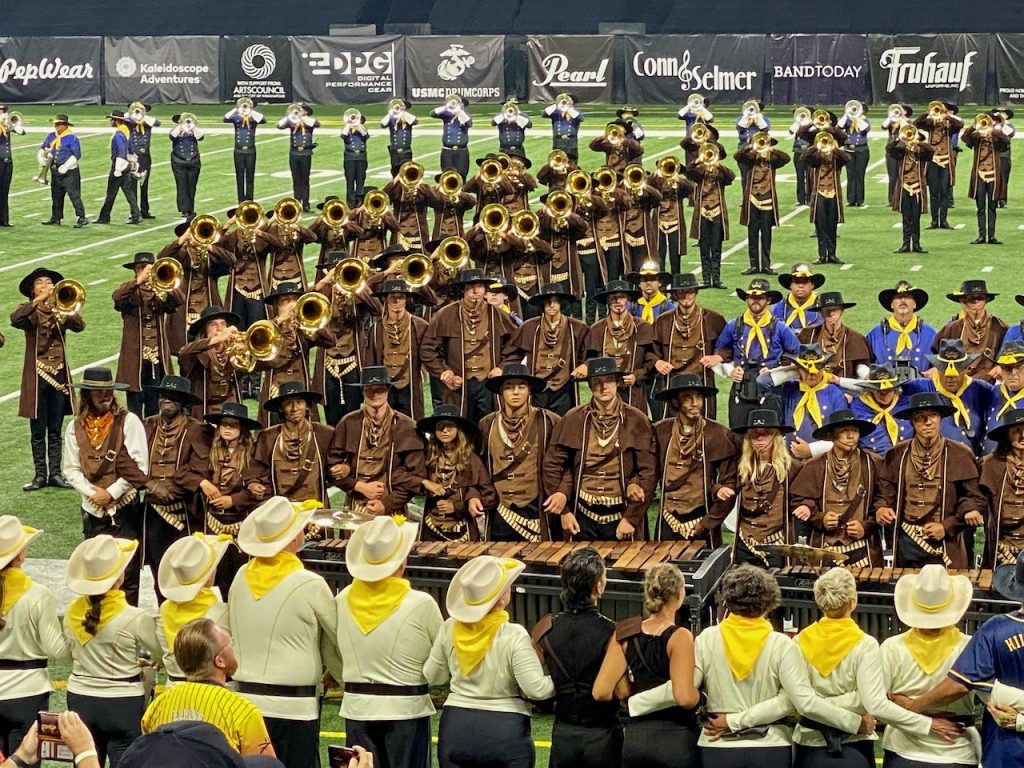 August 12, 2023 – Indianapolis, Indiana
The past two days were a blur. Each year, I find more things to occupy my time in Indianapolis before I go into the oil can to watch the drum corps shows. Therefore, I have had less time to catch up with you daily. Preliminary and Semi-finals are in the books. The top four drum corps are ranked going into the final performances tonight: Blue Devils, Bluecoats, Carolina Crown, and Boston Crusaders, in that order. This was a flip from the Preliminary when Carolina Crown took second place. Crusaders nation is disappointed but optimistic for the Final Championships tonight. I last left you in the stands on Thursday for Preliminary finals just as the Troopers were to come on. This corps has moved up two slots from last year, currently ranked in 10th place. One slot is due to the absence of Santa Clara Vanguard, who surely would be ranked in the top five. The other is due to their continued growth, the strength of the members, and the organization. In eleventh place, the Blue Stars are down by .125 points out of 100. The Blue Knights eked out the 12th place last night, besting Crossman by less than one-tenth. I have enjoyed the Crossmen's performances all season. They performed one of three Pat Metheny tunes – Letters from Home, that I thoroughly enjoyed. The other two are Minuano, performed by Colts, and Finding and Believing, performed by Bluecoats.
The story about Pat Metheny's first exposure to drum corps goes back to 1995 and the Boston Crusaders. As told to me by an alumnus, the corps had been doing a lot of Russian music in the previous years and were looking for something fresh, so they took a total departure with – The Music of Pat Metheny. As the story goes, Pat Matheny was coming to Boston to perform, so one of the BAC members wrote to him to explain that they were performing his music in their show that year. This was before the hyper-sensitive copyright days of today. Pat invited them to come to his rehearsal to play. Upon hearing them, he asked them to open for his show. The copyright issue is complicated for sure, but wouldn't most artists be thrilled that their music is featured in such an exceptional musical activity performed by such amazing kids?
A further look at the rankings from last night indicates a very tight mid-pack as well. Placements below Boston Crusaders are currently Cadets, Mandarins, and Phantom Regiment, all within one-tenth. Anything can happen, with the possibility of more shifts in the ranking. Scores are only one indicator for me to consider a good show. There will be one overall winner, but that does not imply that all others are losers. For instance, the Colts. Their show has won the hearts and minds of drum corps fans up and down the stands. Every corps on the field at this event are winners, bringing their passion and performance ability to the highest level they can, leaving it all on the field.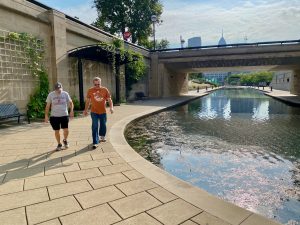 Yesterday, I took a long walk with friends Kurt and Chuck. Chuck is a dedicated and generous board member of Inspire Art and Music, the parent non-profit for the Boston Crusaders, and an excellent life coach. Kurt drives for a medical service company, picking up and delivering necessary medical materials. He is a retired Marine with incredible stories about maintaining aircraft, including Marine One. These are the people that I would not have otherwise met if it were not for drum corps. The uncanny nature of the fan/family base is we are all one. We have an undeniable common bond, a brother/sisterhood of the love of music in motion at its highest form – youth-driven, adult-inspired, volunteer-boosted DCI junior drum and bugle corps. Meeting someone is very easy; look at the t-shirt, and you will have a conversation opportunity, and then you take it from there. You will learn how cool, exceptional, caring, and thoughtful they are.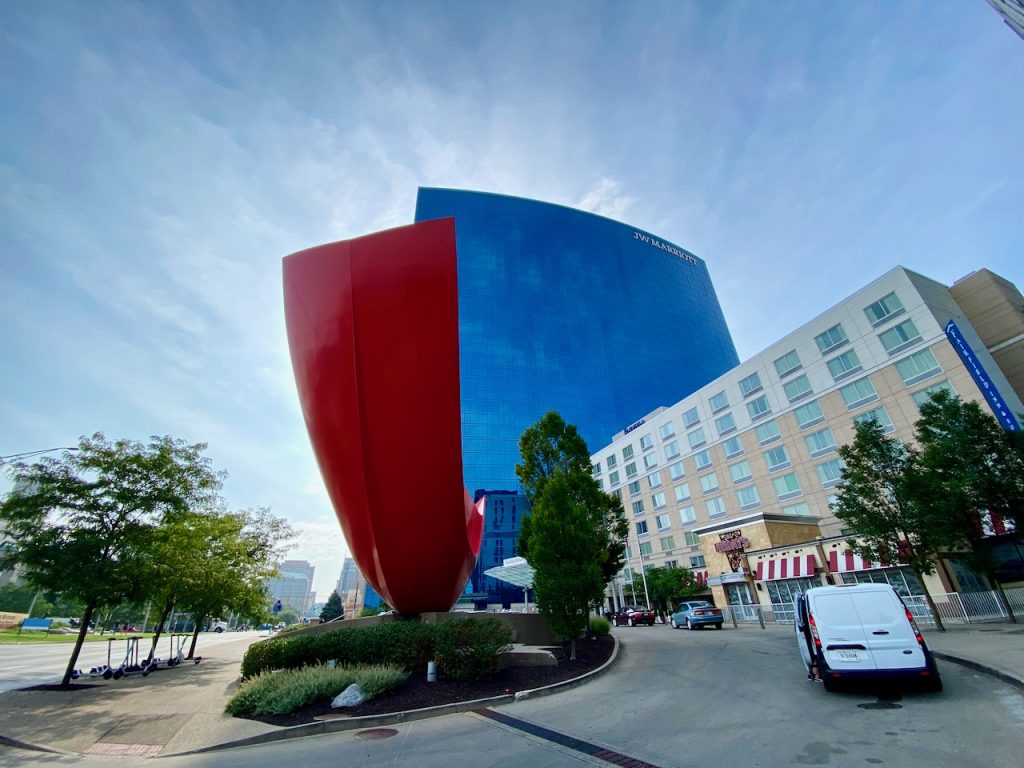 The tres amigos followed the canal to the north end, where the USS Indianapolis memorial was located. My well-exercised tear ducts were once again engaged unexpectedly. The Indianapolis downtown is a trove of unique architectural structures, museums, state offices, corporations, hotels, convention centers, statues, sculptures, and other art. These cityscape features are always in a unique juxtaposition that affords interesting photographic compositions.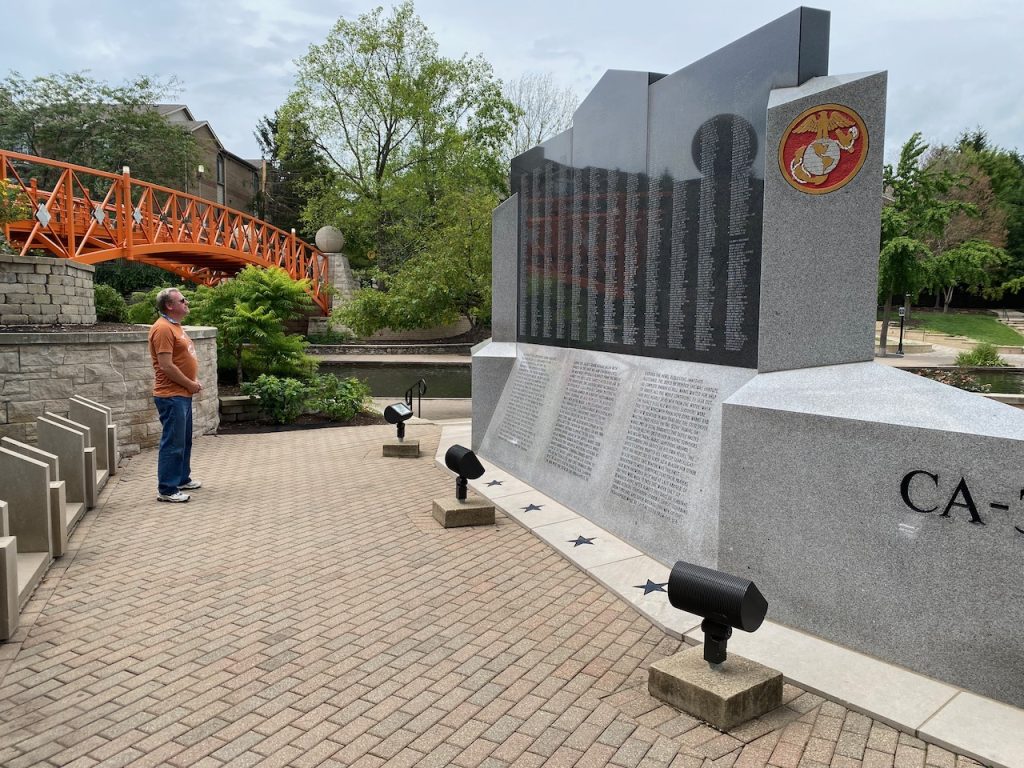 I am going in now to enjoy the final evening and make new friends. I will make sure to update you as soon as possible. I may head home early tomorrow. Stay safe.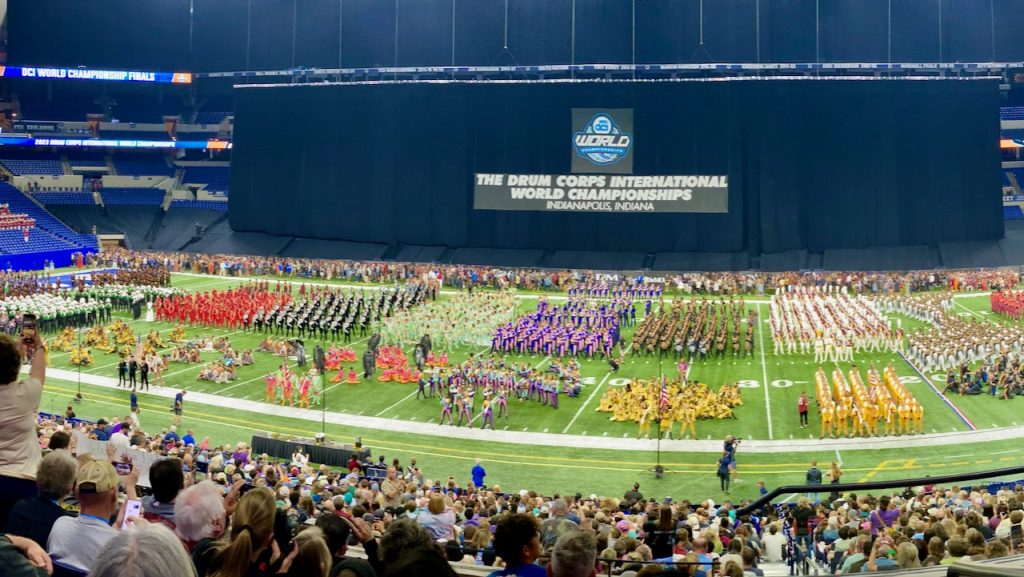 12:00 pm
Well, the 2023 DCI World Championships are in the books. No placement changes in the twelve performing corps from Friday's Semi-finals, making it the 21st time the Blue Devils have achieved the highest score and the top winner of the 2023 Championships. The other two medalists, Bluecoats, silver, and Carolina Crown, receiving the bronze, were deserving. The fourth-place finish, disappointing as it was for many Boston Crusader fans, is nothing to shirk at. What I saw tonight after having seen this show grow and evolve since my first visit to spring training back in June, I can say unequivocally that it was the finest Boston Crusaders Drum Corps performance of the season and in their history. The high level of all of the 12 performing corps is remarkable, and they are all winners in my book.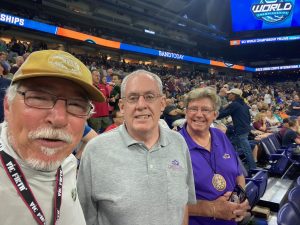 After leaving the comfort of Lucas Oil Stadium Clubroom, I'm sure that I will get caught up with others, and this computer will not be used again for a while, based on how things go here socially after the finals. I will head home early tomorrow in the Silver Bullet, which so far has performed excellently. After a drop-off at the airport, I will take to the high side of the left lane along my high school B-student grades route this time – Interstates 70, 71, 90, 86, and 87. I hope to catch up with you when I return home along the Mill Brook for some final reflections.
Peace out.