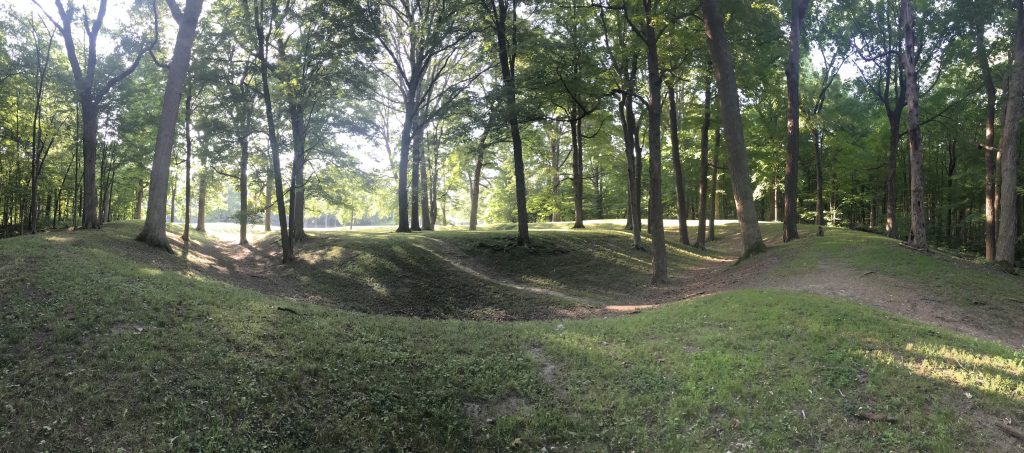 August 7, 2019
Last night I opted out of post rehearsal merriment at Buffton University and drove the Silver Bullet to the well-secluded nature preserve parking lot owned by the university and spent another night of blissful sleep within her inner sanctum. The bug screens for the back windows that I purchased worked their magic providing ventilation without the bugs. Tonight I will do the same only this time I paid my fee for a spot at the Mounds State Park in Anderson, IN just a few miles north of Indianapolis. Before coming here, I drove to the local Tom Wood Volvo dealership to see if they could do an oil change for me. If you read my blog last year, you will remember that I purchased the Silver Bullet, a 2016 XC70 wagon after the Grey Ghost, the old 2008 version, died north of Pittsburgh while on tour last year. Thankfully for me then, it was within a 4-mile drive to Bobby Rahal Volvo in Wexford where I nursed it to its near-final resting place and, long story short, I drove away with the Bullet that day. Today at the Tom Wood dealership in Indianapolis, Sten, Mary, Darin, and Charles were very welcoming to me, a guy from Vermont without an appointment. Charles is a sales associate and very dedicated parent of successful music students. What a pleasure to meet someone who gets it. He said he was lucky that his career path landed his family in a town where they have a strong music program. I too share that same luck locating in the Mad River Valley of Vermont where my daughter had a very successful music experience at Harwood Union High School, graduating this summer. She is packing for college this week while I am on tour. She chose the University of Vermont.
Lo and behold, instead of an oil change, I spent $700 on the 60K-mile service. Oh well, the cost of scratching the drum corps itch by having a safe, reliable car to get me to where it actually happens rather then the very thin slice that one gets digitally. I will say that I would give the Volvo brand a 5-star rating for great customer service based upon my on the road needs, and including my local dealer Al Martin Volvo in Burlington, VT that keeps me running in the winter to get to the trail heads and ski areas on powder days.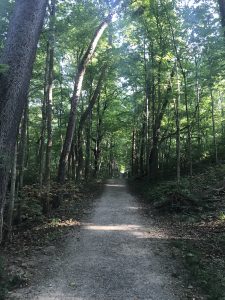 As an out-of-stater I paid $35 dollars to rent my slice of outdoor comfort among about 30 other campers in their respective slots within walking distance of this ancient ceremonial site at the Mounds (my Hilton Honors membership does not apply here). It is amazingly quiet for a campground. Since schools are now in session in Indiana, the sparsely populated katydids and the distant interstate traffic are the only sounds. I chose this place because of the historic significance and the fact that it has a nice trail system for a run. And, boy was I correct about that. My initial plan to run the 2.5-mile perimeter trail evolved into running circles around the various mounds in addition, making it a 5+-mile run. Coincidentally while traveling this morning from Buffton, I was thinking about the Angel Mounds in southern Indiana. I visited that site in 2017 while on the early season tour the year I ran Away with the Drum Corps ­­– the Boston Crusaders Drum and Bugle Corps. Therefore, out of spontaneity, I called on Siri to search ancient mounds nearby, and boom a hit right here where I landed for the evening. While at the park I heard a drum corps rehearsing in the distance but could not find them later when I searched the area.
WAHOO! Drum corps starts again in earnest when I arrive early tomorrow at Lucas Oil Stadium for the preliminary competition. Looking forward to connecting with my DCI family members then. Maybe you are ready for more about drum corps and less about me. I would love to have some feedback from any readers on the various topics covered. Stay tuned for more.