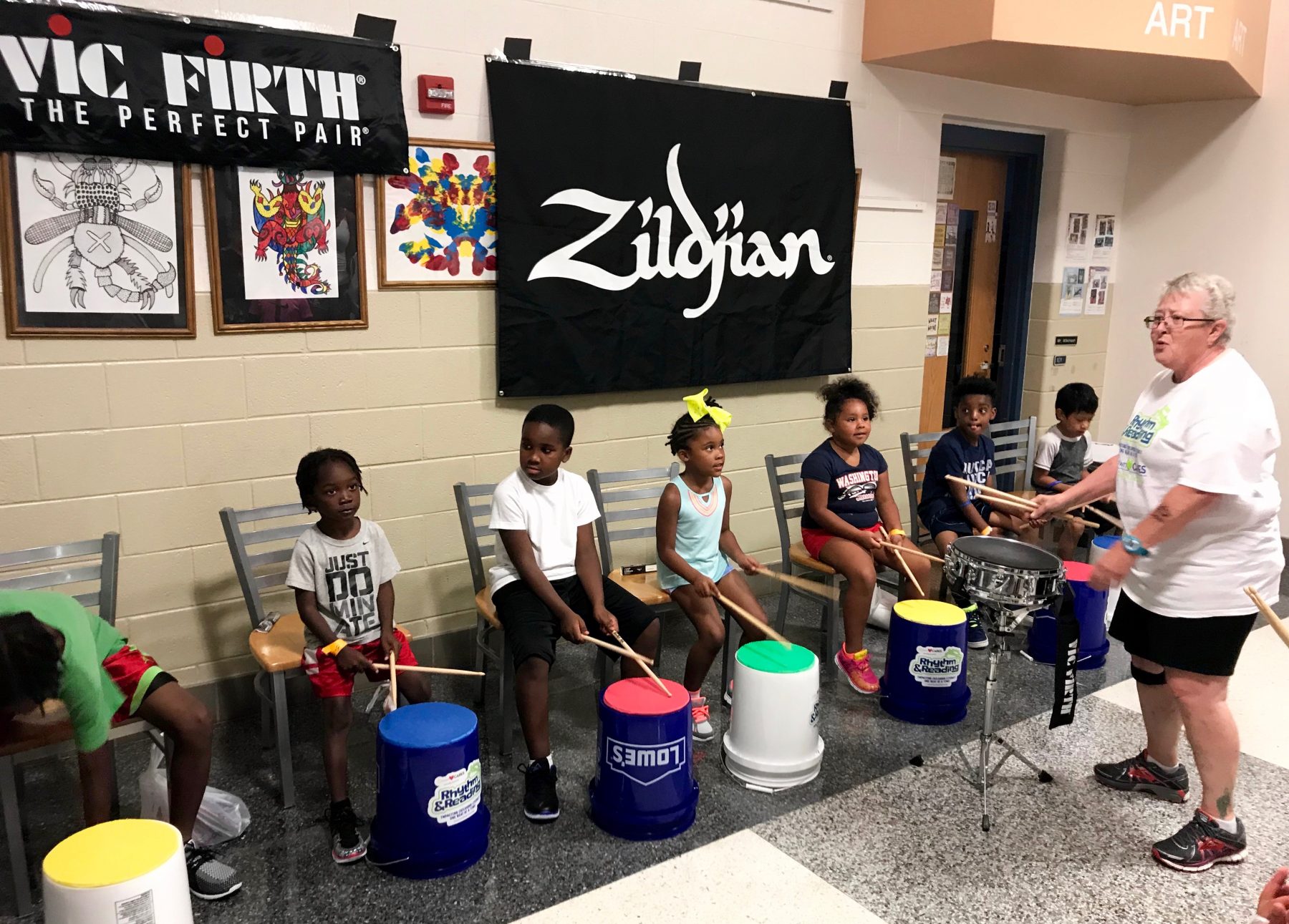 Thirty Years of Caring in Carolina
July 29, 2018
10:00am
I am immersed in the comfort of southern hospitality with my new drum corps brothers, friends and family at a hotel in Winston-Salem, North Carolina. I have embarked on my 2018 late season tour of Drum Corps International (DCI) competitions beginning tonight with NightBEAT, a Tour of Champions (TOC) competition that stretches back over thirty years. Organizing the competition is the Events Committee of Carolina Crown Drum and Bugle Corps (Crown), a DCI World Champion in 2013. I have been invited to attend some special events to celebrate the spirit of Crown and its people as the organization turns 30 years old.
I began the season by catching my hometown corps, the Boston Crusaders Drum and Bugle Corps (BAC) at spring training in June in Vermont, and then I attended two shows in New England in early July. It was good to check in with BAC board members, staff and volunteers that I have become acquainted with during my time as a volunteer intern in 2017. I also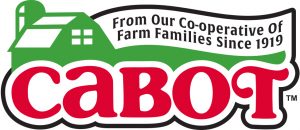 dropped off more Seriously Sharp Cabot Cheddar for the corps. Perhaps you read my 2017 blog entries in alongthemillbrook.com that were later published as a series I Ran Away with the Drum Corps in last years off-season issues of Drum Corps World. This year, I am returning to my prized position in the stands at the 50-yard line at several DCI competitions, at which I hope to convey the exceptional experience through my blog. Philadelphia TOC, Allentown, Massillon TOC, and DCI finals will complete my 2018 tour. Thanks to publisher, Steve I have a center position for three nights in Indianapolis. Yahoo!
The early New England shows gave me a chance to see and hear other top corps including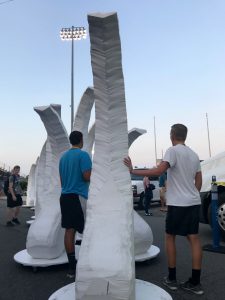 Carolina Crown, the Cadets and the Bluecoats. As you know, I love all of the corps. At one show, I walked along the service road opposite the stadium lined with trucks, props and kids in their colorful uniforms. Maybe the word uniform is passé, as they are more like costumes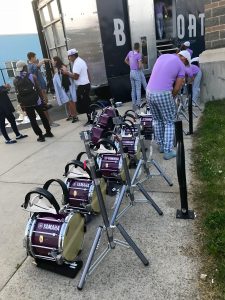 today, each year changing to fit the program. It is almost impossible to identify a corps anymore by their so-called uniforms. As I was passing by the Bluecoats assembling their regalia along the curbside I was impressed by their happy spirit and conviviality. Certainly leading the activity in scoring at the time helps. They were dressed in their similar but all uniquely different uniforms (anti-uniform) of complimenting lavender, lilac, mauve, blue and grey tones, with infinite combinations of plaids and solids. The early evening glow accentuated the pleasing hues. I struck up a friendly conversation with Drew, a mellophone player. He said that the kids are really enjoying performing their show and he looks forward to getting up and working hard every day. He had an interesting combination of confidence and ease about him that is indicative of the attitudes of many corps members that I have met. I believe this comes from the exceptional character of these kids before they join a corps that is compounded by the experience of working and struggling hard together with their many sister and brother members. The individual strives among the many for the greater good and is a better individual for it. Go Blooo!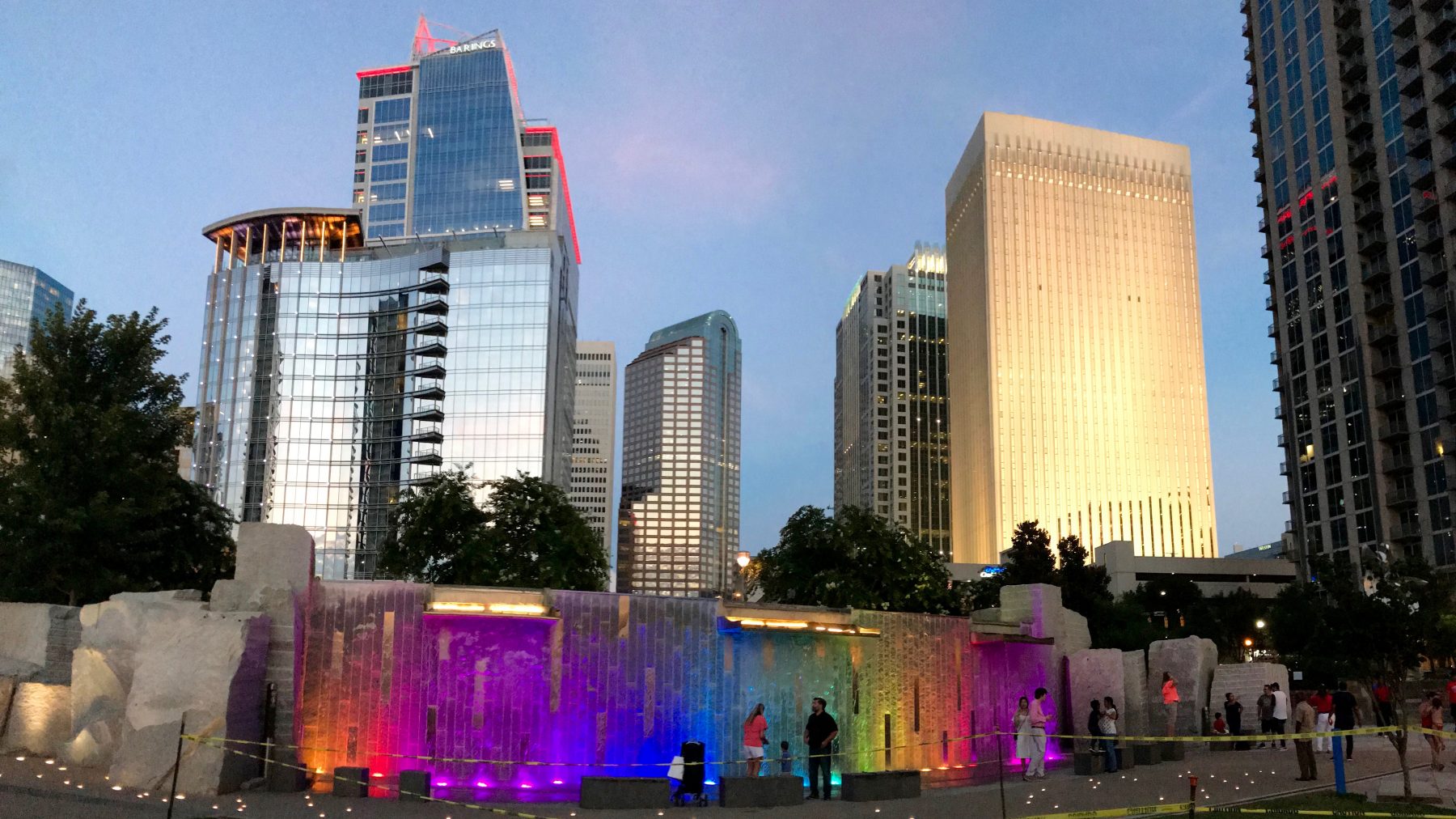 I am now happily back into my tour of live shows after the long hiatus as the mid July shows are too far to travel by car. For this show, however, I did leave the Grey Ghost (my Volvo wagon) in Vermont and I flew into Charlotte, North Carolina, the original home of Carolina Crown. I am staying with Tim, an active committee member of the Crown family, and brother of my BAC board member friend Garry. It has been such a pleasure to know them and to be introduced so many other highly dedicated adult drum crops supporters of these two top competing corps. They are too numerous to mention by name. Friday night we visited Charlotte's downtown to have dinner at one of the many fine restaurants. Charlotte is the Queen City of the South (hence crown). It is a vibrant peopled-place in the evening that is very walk-able with many beautiful city vistas, parks and public spaces. It is no wonder that the city has had such a meteoric rise as has Carolina Crown its home drum corps.
The Carolina Crown history is not as long as many of the top corps in the activity, though it is rich with persons, places, events, milestones, failures, and victories that rival them all. A more complete accounting of these and several interesting anecdotes can be found on their website here (Our History). My first introduction to Crown was in 2012, the year that I rediscovered drum corps after a 40-year hiatus while whiling away my time on YouTube that winter. This was a pivotal moment for me and my summers have been filled with great excitement since then. After hours of viewing archived videos and research of the DCI corps throughout the winter and spring, I decided to go to a show again that summer. At an early show in Fort Edward, the 2012 Crown show won me over with the familiar music of the American composer, Aaron Copland, though I had previously thought is was Keith Emerson. Since then I have been an admiring fan of Crown and become a serious drum corps nut. I love all of the corps. I have become so taken that I ran away with my hometown drum corps last year.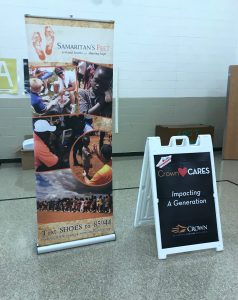 Little did I realize in 2012 how accurately the program title, For the Common Good, was to describing Crown's music with a mission philosophy – Developing Lifelong Excellence in Young People. I have been involved with a lot of volunteer activities during my years, but what I participated in yesterday at the Ibraham Elementary School with the Crown family tops all for the teary takeaway. To further engage the community, the board of directors of the non-profit organization created CrownCARES community outreach initiatives, including the Rhythm and Reading events that I participated with. In conjunction with the non-profit Samaritan's Feet, Vic Firth, Zildgian and other sponsors, the Crown family of volunteers and members of area faith organizations held three events in the Winston-Salem area on Saturday that ultimately served over 1200 underprivileged children with reading and drumming activities, new books, and new sneakers. Before the kids streamed in, I learned the story of Nigerian, Emannuel Ohonme, Manny, who at age 9 was gifted a pair of shoes along with words of hope that propelled him to success. Now he is giving back through Samaritan's Feet, partnering with others to distribute over 9 million pairs of shoe to those in need in 91 countries and 366 U.S. cities.
"Our legacy should be created based on what we do for others, not on how much money we make or how many material things we acquire. We will never know the impact of the ripple effect of our actions and obedience if we sit on the sidelines as spectators." – samaritansfeet.org
With Tim and about a dozen other Crown family members, I volunteered to sit with the kids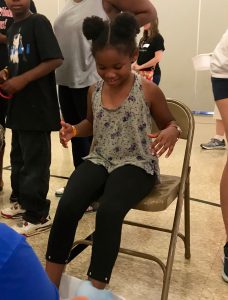 and fit them with new sneakers. I was impressed by how well this event was organized with able volunteers and the kids coming in shifts. Before we had them, others read to them and gave out free books. Rena, a Crown angel and music teacher, worked with the kids on bucket-top drumming exercises and handed out new Vic Firth and Zildgian drumsticks after they received their new shoes. While these kids were seated in front of us we took the time to listen and talk to each one as we washed their feet, put on new socks and fitted them with new shoes. Other volunteers supported us by bringing pans of clean water and delivering the shoes. I had some idea of what I was in for but had no idea how profound it would affect me. As a ski instructor, I have helped kids put on ski boots for years. When you are down at their level and looking them in the eyes, you have the opportunity to put them at ease and build their confidence. The power of the personal connection we made while fitting the kids was evident in their smiles and giggles, and willingness to share their hopes and dreams with us. The coachable moment was not lost, as I looked each one of them directly in the eyes, providing words of praise and encouragement. "Yes you can!" I was particularly impressed that most of the kids' favorite subject was math. There must be an extraordinary math teacher at Ibraham. Unfortunately, not many knew where Vermont was and didn't seem to think they could learn to ski. I began to think about how I could change that.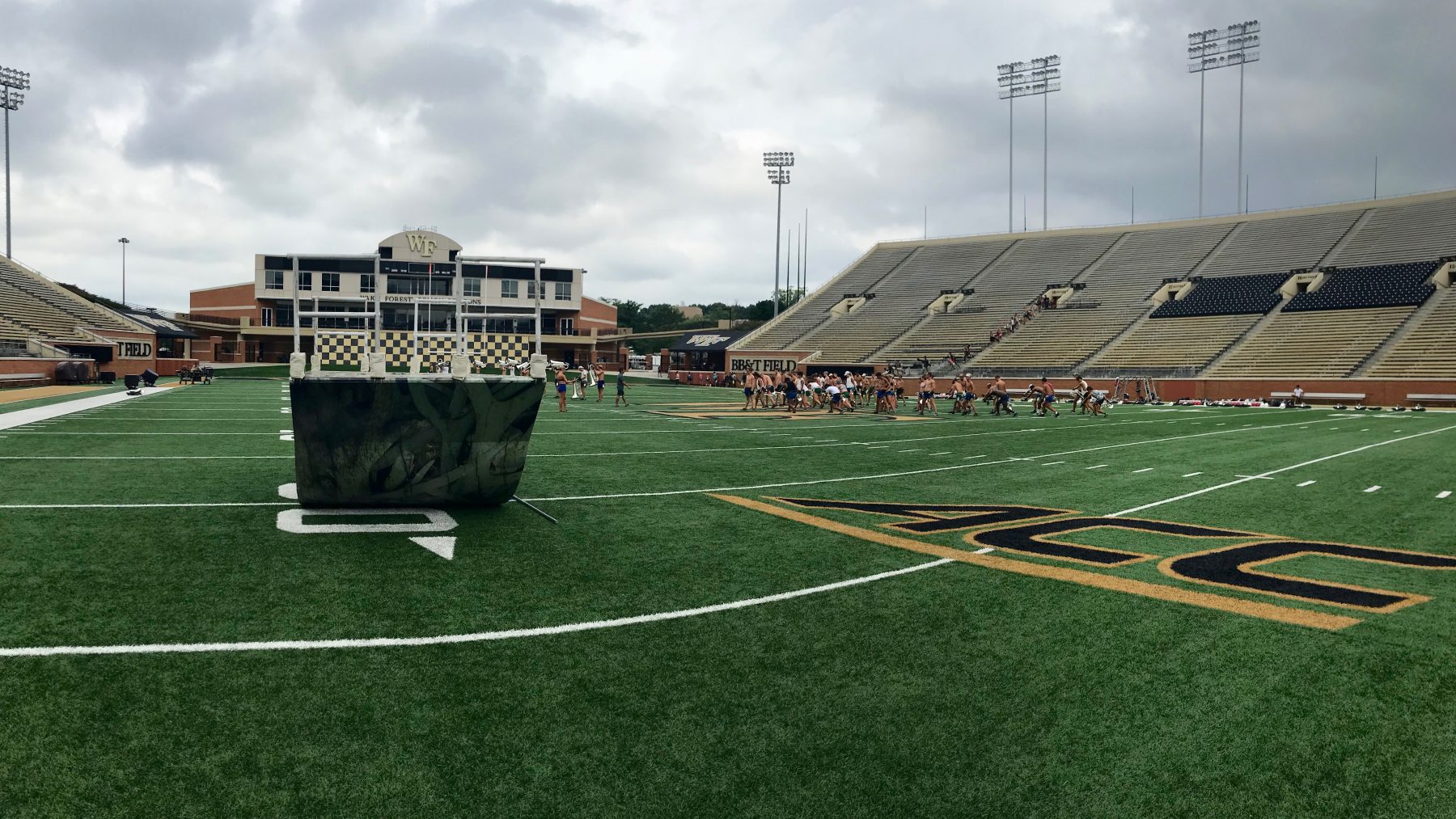 3:00pm
I am sitting in the BB&T stadium at Wake Forest University in Winston-Salem watching the afternoon rehearsal of the Carolina Crown. It is sunny, hot, and humid with a slight consolation of a breeze. The full ensemble is going through the book moving from dot to dot as they go through each take. This is another visual demonstration of the power of youth as they endure the heat without even a glimpse of its affect. They are in the ballad section of the program. One cannot hear the Crown brass too much. This reminds me of 2012, the year that I first attended an afternoon rehearsal of a world class corps. I was in Allentown for the first time casing out the J Birney Crum Stadium when I heard in the distance the familiar beginning notes from For the Common Man. CROWN! Cupping my ears, I zeroed in on the location and followed the sound to the source, a nearby school. After what seem like hours of take after take of sections of the program, they performed a full run through as I sat on the bank above the field. It blew me away to observe their stamina and dedication. This was when I realized just how dedicated the membership and staff are to perfect their programs. Watching that rehearsal affected my appreciation for the performing activity profoundly. I regretted that I did not have my hanky and found myself wiping my eyes with my shirt. Seeing these kid in the out-of-uniform, more natural state had an added affect. I suppose that is why the uniforms now allow for this more personal view of the performers to fully express that emotion. I now look forward to catching rehearsals every year. Today's rehearsal of Carolina Crown is no less demanding with the high heat and humidity. The instructors are working the kids through the book with encouragement and praise with frequent water breaks. Tonight is NightBEAT, Carolina Crown's big home show and they look forward to impressing the local loyal fan base. I have noticed, however that anywhere Crown performs, they seem to be a crowd favorite.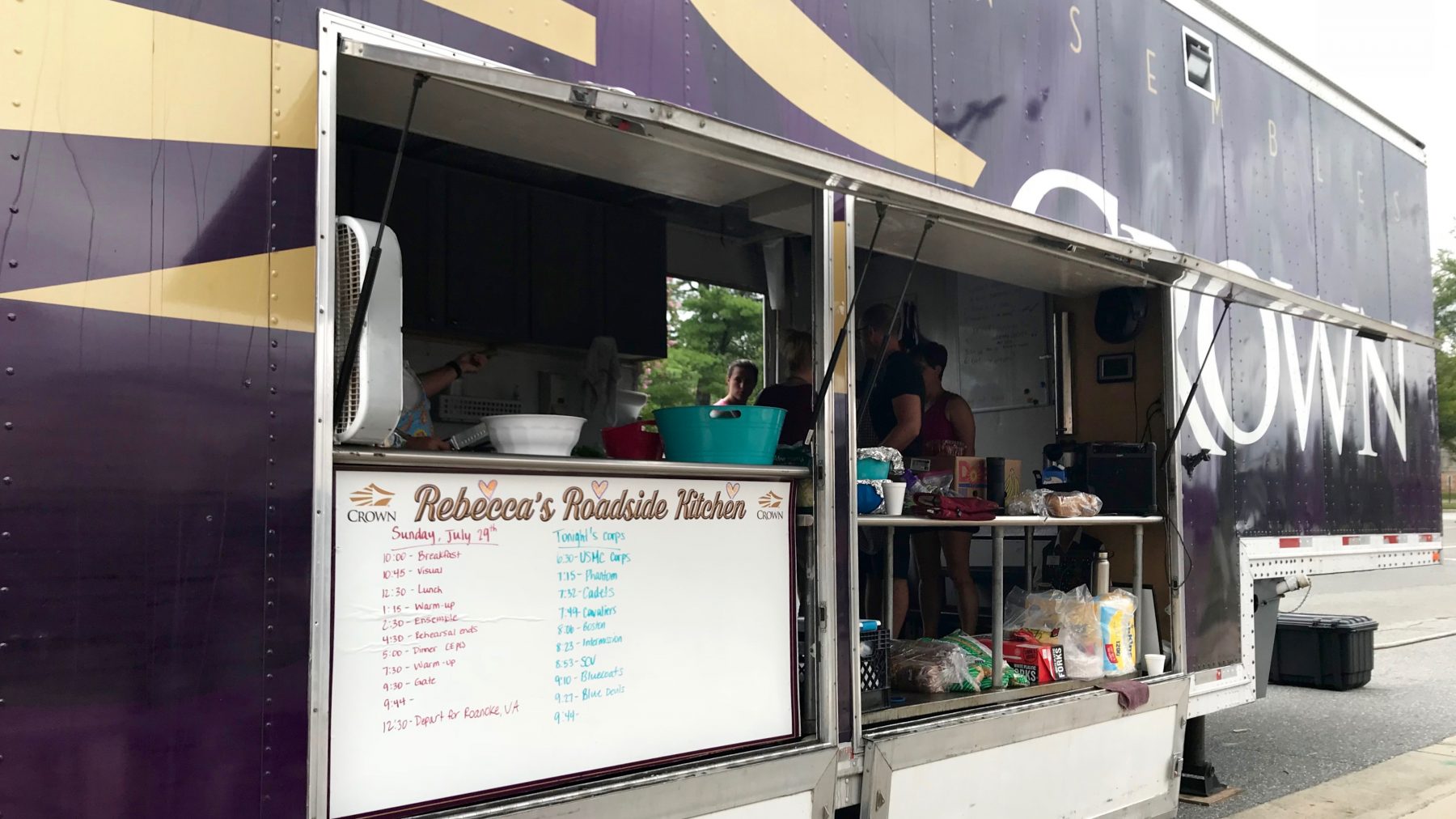 Earlier in the day, I had the opportunity to meet some of the dedicated staff and visited the food truck – Rebecca's Roadside Kitchen. From the rolling kitchen, Rebecca and her team of staff and volunteers are famous for the great food they serve to the hungry beasts – the CC members and staff. Not wanting to get in her way, I chose another time to talk to her about my ideas for food. If you read my earlier drum corps blog posts, you learned that I am an avid foodie. I have often wondered how DCI and the member corps collaborate on best practices and food sources. I think it is important to provide the best and healthiest whole foods to the healthiest and hungriest kids in America, to all corps members. I hope to meet up with Rebecca at an upcoming show when she has some downtime to get her ideas. I thought maybe these kids would like some Cabot Creamery Cheddar Cheese, so I will be sure to bring some to Allentown when I will meet up with Rebecca again.
The rehearsal wetted my appetite for some live drum corps that I have been longing for. Checking out my seats in the stadium, I am sure tonight will be a great show. The BB&T Field is an awesome outdoor stadium and perfect for a drum corps show. There is no multi-lane oval track separating the field and the stands that shoot up vertically – high and early. Tim and others will be in the box seating that they reserved for Crown friends and sponsors including the U.S. Marine Corps. The Commandant's Own USMC Drum and Bugle Corps will begin the program. The line up is spectacular with the top corps in the activity and they are all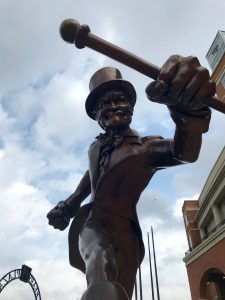 running at peak after a long month of touring throughout the country. New dramatic and extended closers have been revealed, pushing the limits of the members' stamina and talent. This will be 21st Century drum and bugle corps at its best. Before the show, the Crown family will induct new members into their Hall of Fame. I have found that when you pull back the curtain of a drum corps, you find many incredibly dedicated and talented adults behind the scenes. Crown is no exception by any means. Tomorrow, I will fill you in on the details of my experience from the fifty at NightBEAT, their seminal event. Meanwhile, time for a nice long walk around this sports complex.