August 1, 2018
I am calling an 'audible,' that is a change in play or plan at the last minute. Skiing with friends, that is what we call a trail change on the fly. Instead of going to Chester Pennsylvania for the Tour or Championship show, I have decided to take an extra day back here on the Mill Brook and then go to Lawrence Massachusetts tomorrow. My return trip from NightBEAT was delayed due to weather and I missed my connection from JFK to BTV, or quaint little airport in Vermont's Queen City ­– Burlington. Having spent last Monday night in the airport, I was not only delayed, but spent from the over stimulation of the masses of people and trying to get comfortable reposing on those hard metal-armed airport lounges. Ugh! I donated my Chester ticket back to YEA and look forward to meeting up with the Boston Crusaders at their home show. I will be delivering more Cabot Cheddar Cheese. This time, I am bringing some for the Carolina Crown, too when I meet up with them again later on my tour. Another bonus is that I will be sitting with a new-found friend that I met through pure serendipity – Mary. This will be her first drum corps show, so it is sort of a make or break situation (he said kiddingly). Meanwhile it is time to get some well-needed rest and catch up posting these blog entries.
August 3, 2018
I am in route to Allentown Pennsylvania. Yesterday, I embarked on my auto tour of Drum Corps shows. I loaded up the Grey Ghost (my Volvo) and headed to Lawrence Massachusetts for the home show of the Boston Crusaders. In addition to the clothes, sleeping bag and pad, electronic devises and various other sundry, I was packing Cabot cheddar cheese for my new drum corps families, first the Boston Crusaders, and later on tour, Carolina Crown. It has been a rather hot and muggy summer in New England and yesterday was no exception. I have been worried about Grey as he has been throwing out a transmission service required code. My solution has been to pull off the road, shut off the car, wait ten seconds to restart and drive away. This happens when it is hot and going up steep hills. I am driving on a wing and a prayer, so to speak. So far, so good, as I am now well on my way after a great time in Lawrence last night at the Boston Crusaders' home show, CYO Nationals.
Mother nature was not as polite to drum corps last night, but I still love her. Yes, it rained out the marching performances for most of the corps. Even though the heavy rain passed quickly, the field was too wet and unsafe for the fast drills of today's marching maneuvers. A rainbow and standstill performances by the fine corps in attendance were consolations. However, since BAC was scheduled last, the magnanimous and thoughtful leadership decided to do the whole show, props and all, much to the delight of the grateful fans. I was very grateful for my companion, Mary this evening to be able to see a complete show. She said she really liked it and I believe her. I really liked having a very nice person join me and to share some insights with. Mary is a skier, too. Yes!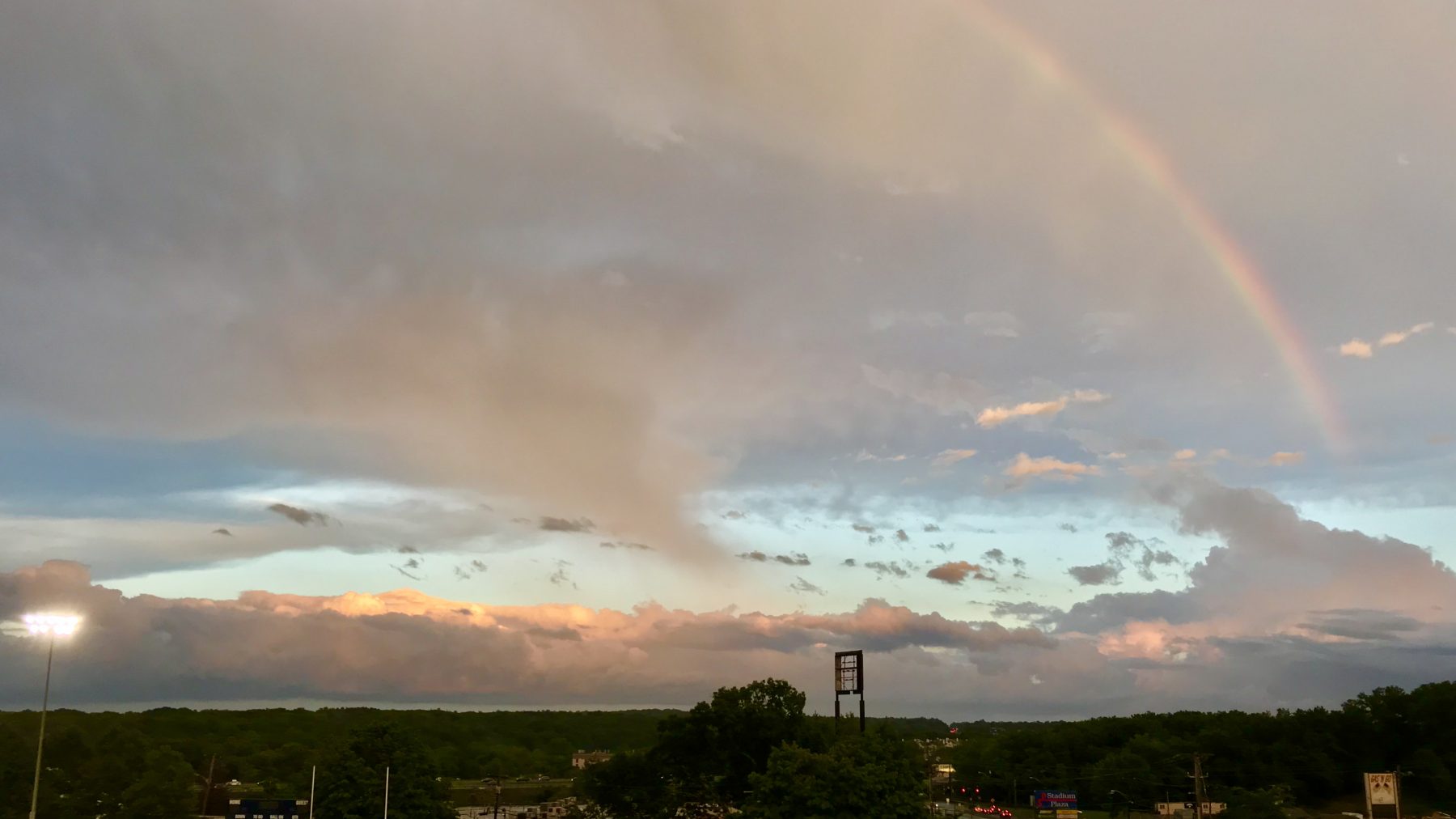 Parting is such sweet sorrow. I am on my way, solo, to the best shows on earth. I plan to drive through the Delaware Water Gap National Park, which is on the Pennsylvania side of the Delaware River that separates PA from NJ. Since there are no commercial vehicles it will be a welcome break from the stream of trucks and cars to constantly jockey around with from lane to lane. I have been using a new driving technique, mostly to take it easy on the Grey Ghost. My old style of driving on the high side of the fast lane has been replaced by five under in the far right lane. I have found that this is the least stressful on me as well, so I am a new convert to driving within the speed limit.
Before the show, I dropped off more cheese to the BAC food trailer and ran into some friends and members. It was a pleasure to join them all for dinner that included hamburgers with a platter of cheese on the side to put on them. On one side of the platter were yellow slices of processed cheese, and on the other was the white Cabot sharp cheddar. I observed that the kids more often chose the yellow cheese. Guess what? Real cheese is white. It's amazing how food marketing affects our eating habits. The history of yellow cheese is a lesson on such marketing. Maybe you have guessed that I am a foodie. There is room for improvement for healthier food in drum corps, membership meals as well as the food for fans available at the venues. And the lack of available free potable drinking water at the stadiums leads to poor hydration caused by the barrier imposed by the high purchase price and inconvenience of waiting in the concession line for bottled water. I will drop this negativity for now, but don't be surprised if you read more about this in future posts. The drum corps activity can be better at this and someone needs to lead the way. I gotta get back in the car. Last year when I Ran Away with the Drum Corps, I taped the words "INDY or BUST" on my cargo box for fun and sport. This year that saying may be more fitting.