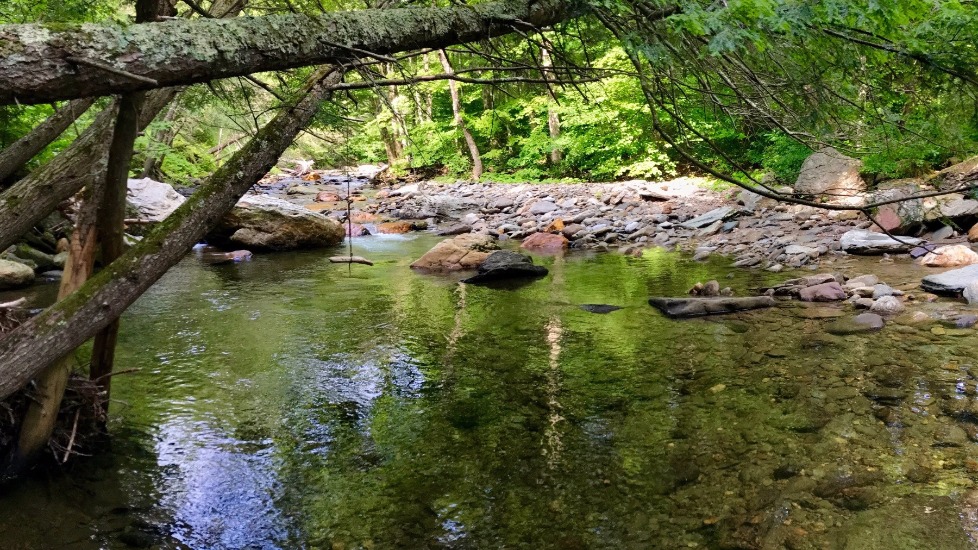 This is a continuing series of posts following my initial adventure  – I Ran Away with the Drum Corps.
July 26, 2017 – Anticipation
Here I find myself again, sitting along the Mill Brook contemplating my next drum corps tour, a six day run of shows where I will get a chance to catch up with the Boston Crusaders (BAC) again. Perhaps you read about my adventures volunteering with the corps back in June. It seems like eons ago when I left the corps in Muncie, Indiana after their fourth competition. Since then, I have had a daily routine of checking Facebook, DCP, DCI, Drum Corps World and other online sources to keep tabs on the corps and the activity. I even went with the Flo (Marching) for three events. What a competitive year for all of the corps and an astoundingly good year for BAC! This corps has rocked the DCI world with being the most improved championship level corps this year – jumping from 12th last year to solid 6th at mid season's rankings so far this year. Smokin'!
During my 10-day tour with the corps back in June, I met dozens of staff, members and volunteers. Even though they are too numerous to mention, I barely scratched the surface of getting to meet all of the touring corps. What I did not realize prior to posting my story was the enormous nation of alumni, family members and friends from all over who follow the corps. It has been a real privilege to hear from some in response to my posts. Thank you for your encouraging comments to write more.
Some of the comments and messages that I received related to some of the topics that I raised in my story. One topic in particular dealt with food. Since this is an area of interest for me, I have dwelt on it greatly. Firstly, BAC has a very fine food service program that is highly supported by donations. Each day, the corps sends their thanks to individual donors by way of a Facebook posts of photos and messages from BAC members. You can tell by their smiles and their physiques that they are happy and fit. The corps has been receiving much love and support from countless volunteers that have hitched on during the long July slog through the hot south. BBQs, ice machines and creamies have been standard fare. Steve, a dedicated alumnus has been in touch and I learned that his family supplies real maple syrup during spring training. He will be bringing some to Lawrence, Massachusetts next month, BAC's homecoming show. I will be bringing large bricks of Cabot Seriously Sharp Cheddar cheese with me for the Corps in Allentown.
Under the premise of 'we can always do better' for kids in all of the corps, I have been thinking about food, not only for it's nutritional importance but also it's effect on the competitive edge. Certainly a well-fed corps is important for being able to compete at the top level. But, shouldn't all corps' members have the best food and service available, not withstanding their success on the field? No kid should get less. So, I have decided to talk to Garry, the BAC board member and others about this to explore what DCI and the corps do to collaborate on best practices. Sharing good ideas and pooling resources among the corps for food sources, waste management practices, and reduction in transportation impacts can have an overall positive effect on the activity. I assume that the kids would respond to initiatives to make drum corps activities healthier and cleaner and they may be the best resource for ideas.
I am starting to get my arms around the other competing corps' programs this year, now having had the chance to watch each at least a few times on my computer. Fortunately, YouTube posts have been helpful. I became a member of FloMarching, the only other option to watch a particular show in more than one venue without traveling thousands of miles to attend the live performances. I am grateful for this opportunity and wish them success with future shows. But, oh how I long for the days when it could be streamed at least for a period of 24 hours later. For us easterners, watching Blue Devils at 1:00 AM, it can be hard to determine whether one is watching a drum corps show or in that interstitial space between awake and dreaming. Or, maybe that was the show.
The audio of a broadcast show has always seemed to be a tricky balance with mic locations to be able to capture the entire sound including the front ensemble and amplified sound. The Belton, TX mic locations on FloMarching were more toward the field and behind the pit and not picking up the narration and soloists well, however I loved the brass and battery sound. As the activity continues to evolve with the electronics, this will be more important to coordinate with each corps approach to sound generation. Have you counted the speakers in the Bluecoats' show? How about that mic location in the back left corner that pushes back the sound of the horns playing away from the stands through their elaborate audio system? I like the unique modified sounds generated by the mic'ed Blue Knights' snare drummer and mellophone soloists, and the modified brass sound of Cavalier's mic'ed contras basses. How long will it be before the entire horn lines have mics?
There is no doubt that watching drum corps live verses on video is like comparing lightening and the lightening bug. (Thank you, Samuel Clemens.) However, having familiarity with the music and the themes of each corps greatly adds to appreciating the live shows. Having improved access to online content is very important to building appreciative audiences. I am thankful to be on the 50-yard line next week. I will be traveling a couple more thousand miles from Vermont through New Jersey, to Pennsylvania, New York and Ohio for six straight days of competitions. This will include two Tour of Champions shows and the mecca for drum corps, Allentown. I will see Wicked Games four more times. Unfortunately, I will not be in Lawrence, MA for the BAC homecoming. There will certainly be a lot of love that night from the BAC nation.
I will follow up with another post next week before I leave to run away with the drum corps again. I hope to write and share my daily blog with you while on tour. I will touch on some other topics and share my perspective on some of the other corps programs that I have been enjoying. Did I tell you that I love all of the corps? Meanwhile, I will be whiling away my time hiking the Green Mountains to stay fit and surfing the net to keep tabs on the drum corps activity.
August 1, 2017 – 11:59pm
 EUREKA! I finally have the blog up and running!
I totally underestimated the Herculean task involved in getting a simple blog site up and functioning. There are angels, however. I owe a huge debt of gratitude to my brainiac friend Ken from Detroit, Michigan for his assistance. In addition to running a successful IT company, Ken and his wife, Kristie are real angels. In their spare time they rescue Kemps Ridley sea turtles. Some of these amazing aquatic creatures become stranded in the colder waters of the northeast during their annual migration to warmer waters. Ken is a pilot and he uses his private plane to transport them to Florida to return them to the safe and warm waters of the Gulf of Mexico. What does this have to do with drum corps? Ken's surprise visit to Vermont in my time of need is just another example of the coincidences that have led me along this journey. After our literally 11th hour success with the web site, we toasted to our mutual interest in making the world a better place for man and nature, and to the success of my blog telling the story as I run away with the drum corps again. Thank you, Ken!
Tomorrow, at long last, I begin my August 2017 DCI run of shows traveling to in Clifton, NJ where I will be meeting up again with the Boston Crusaders Drum and Bugle Corps (BAC). Oh, how the boys and girls of the BAC have been performing throughout their tour of the Midwest and south during the month of July. They have performed in over two-dozen stadiums since I left them in Muncie, Indiana a month ago. Their program, Wicked Games, has been well-received by many admiring live audience throughout the south, as well as the nation of fans, volunteers and friends that follow them vicariously through the available media. There have been many BAC angels (volunteers) along the way providing support. Thank you to all of the avid content posters. I have made my final preparations for the weeklong tour of shows that will complete the regular DCI season. Months ago, long before I decided to run away with the BAC, I had purchased tickets for Allentown, PA; Drums Along the Mohawk in Rome, NY; and Tour of Champions in Massillon, Ohio. I recently, added the August 2 show in Clifton, New Jersey to my tour to meet up with BAC sooner, so that is where I am headed tomorrow on the second part of my summer running away with the drum corps. I will keep you posted.
Road Trip!
Click here to read my story – I Rans Away with the Drum Corps – from the first four shows in June.