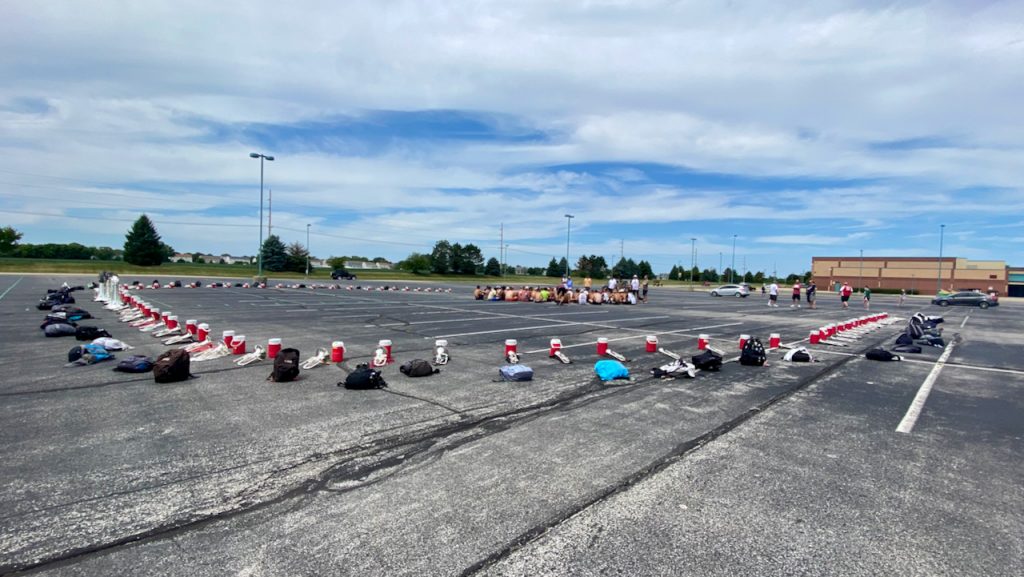 August 12, 2021
10:00am – Oxford, Ohio
Yesterday was another fine day of trails and travel from Centerville in eastern Ohio where I spent a quiet slumber in the Volvo following my final DCI outdoor show in the Elks Stadium the night before. There was no drum corps show, so my plan was to finally ride my bike on a section of the Buckeye/North Country Trail system. After finishing my blog post in the private setting of the Town park, I decided to ride from Corwin to Oregonia, in central/western Ohio on the ODNR Little Miami State Park multi-use rail trail. It was a fast spin out and back for a total of 14 miles on the pedal. The temperature was mid 90's but I was cool, making my own wind at 10 mph along the flat, paved straight-away. I observed over a dozen cardinals darting about alongside the trail. The habitat must be perfect for this specific species of bird. A rail or canal corridor is a unique edge habitat that provides for more diverse plant types that are not found in the monoculture of the agricultural fields and residential properties that these corridors traverse through. This is an example of the positive environmental impact of trails. Today this was a corridor for people and that amazing crimson bird.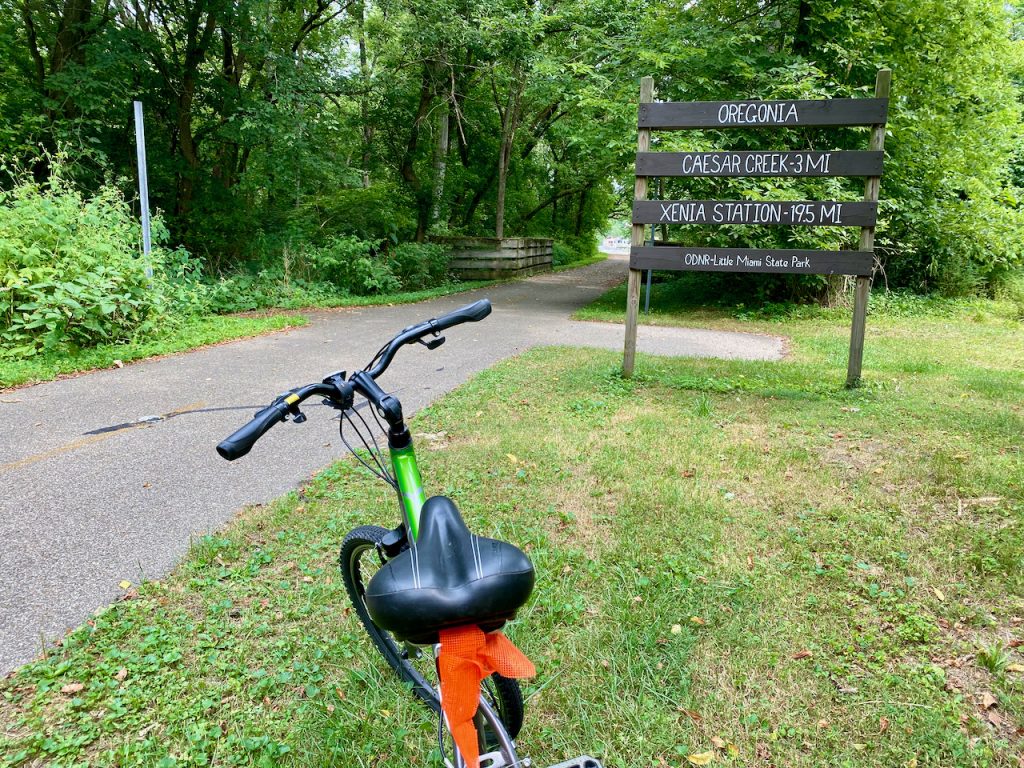 Following the morning bike ride, I was in search of some single track hiking on a portion of the North Country/Buckeye Trail and I found it at the nearby Caesar Creek State Park. I hiked a couple of miles along the shoreline trail spotting an occasional familiar blue blaze to guide my way. The busy personal watercraft on the open body of water provided a different experience than my previous tranquil hike in the Allegheny National Forest in western PA. Alas, recreation comes in many forms, some carbon burning. Once again, I find myself being a little hypocritical, as I burn my fair share of carbon on my way to my human-powered recreation and other pursuits, for instance my 3,000 + mile lark in the Volvo and equal air miles for DCI.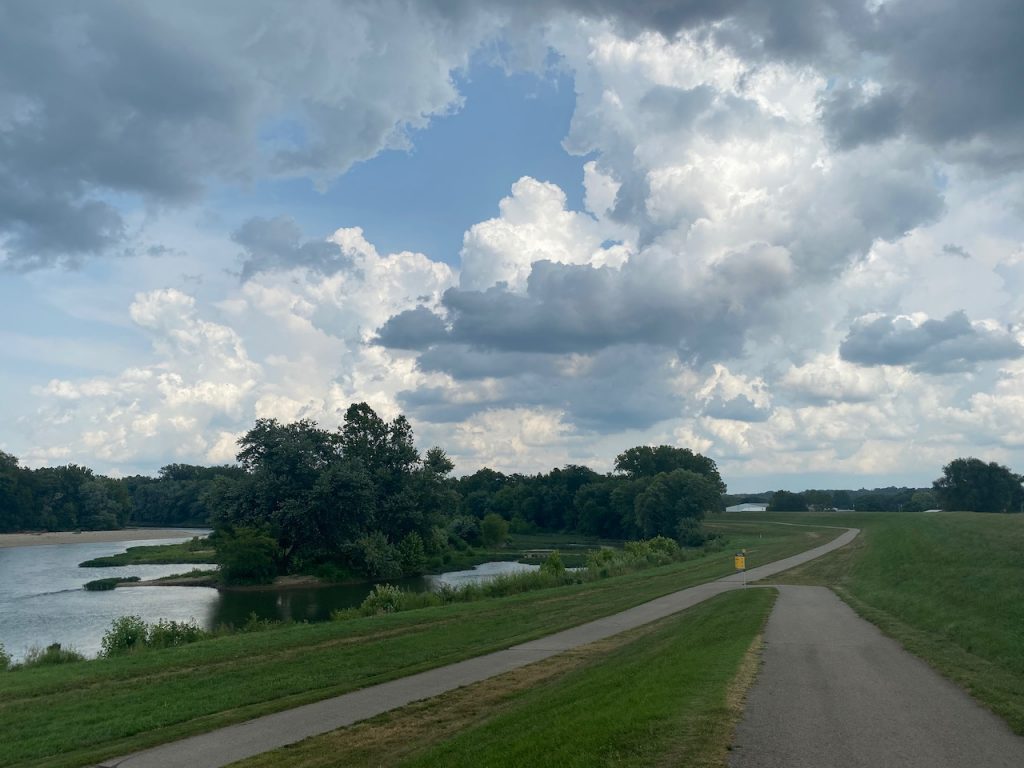 So much a lark that I was not sure where I was going to lay my head down last night, so I decided to head here to Oxford Ohio and Miami University to utilize the WIFI, bathroom, refill my water bottles and work on my blog. Being 90 plus degrees, I was not interested in sleeping in the car again, so I got a great walk-in rate at the Hampton Inn where I refreshed the body and laundered five days of clothes. A full day of exercise and a cold IPA from Devil Wind Brewery from the cooler facilitated getting a great night's sleep. Visions of drum corps danced in my head in anticipation of the next three days that would be filled with amazing sights and sounds at the final DCI Celebration for 2021. It has been a leisurely morning of hotel breakfast, coffee, and blog updates while peoplewatching in the lobby, but now it is time to hit the road for my final stretch to the DCI Mecca.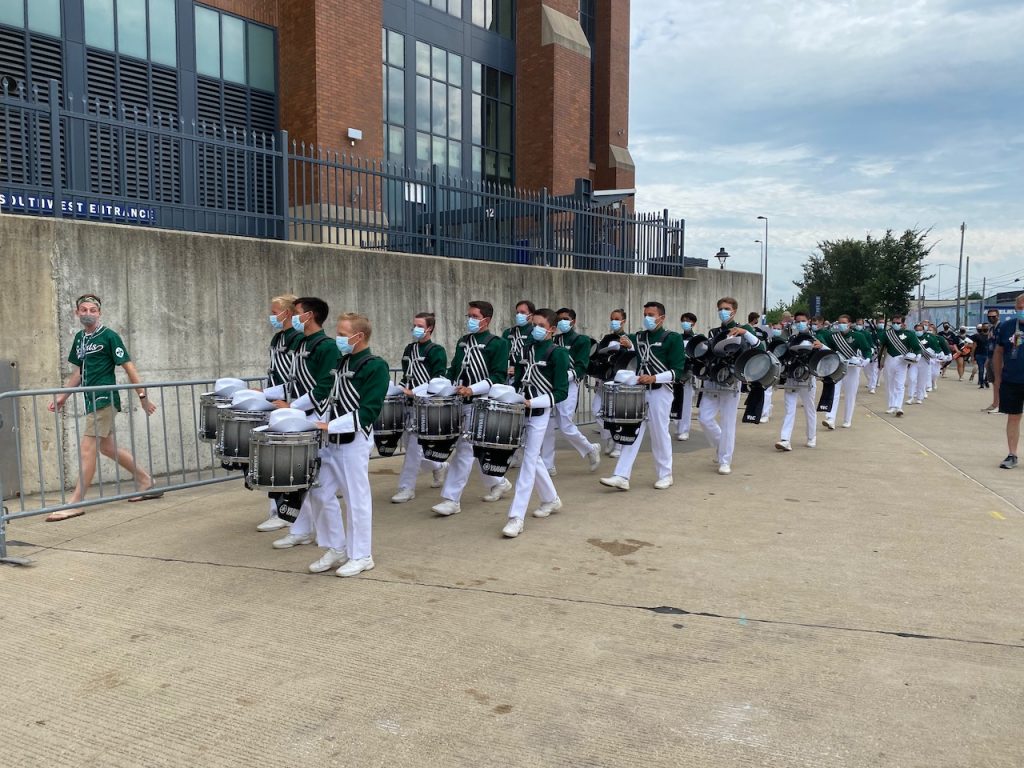 4:20pm – Indianapolis, ID
After day-tripping in the stalwart Swedish carriage from western Ohio along a zig-zag course set collaboratively between me and Siri across the flat midwestern landscape, I am finally back in Lucas Oil Stadium after almost two years. It is the first of three days of entertainment that I will enjoy here. I entered the cavernous domain of the Indianapolis Colts NFL team through the clubroom in the middle of the stadium. Today, I will watch Colts of a different variety. In early August, this gridiron is a field of competition for a very unique youth activity – Junior Drum and Bugle Corps, sanction by Drum Corps International (DCI). I am here for DCI's comeback year celebration after taking a pandemic-related hiatus in 2020. Wisconsin's Madison Scouts were on the field when I arrived, so I watched them on the many video screens in the clubroom. It is kind of like kissing through a screen door.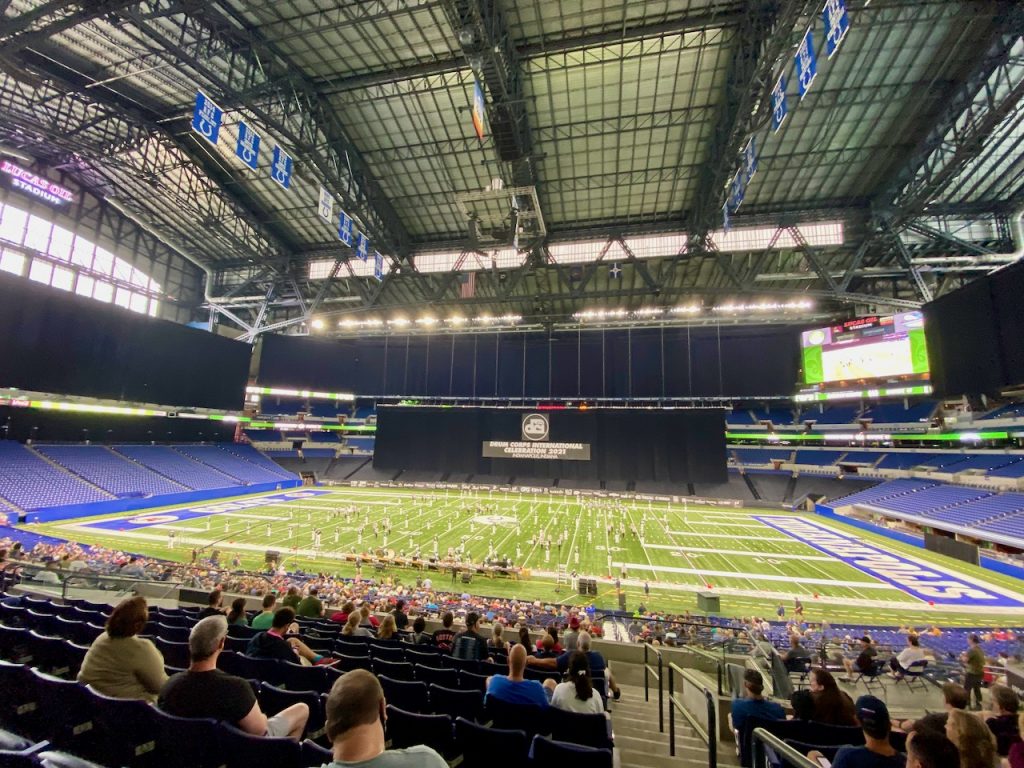 I was just too late getting in due to a technical snafu on my email ticket. This I straightened out with the ticket window half a mile around to the east side of the stadium. Once the very courteous lady texted me my ticket for entry, I doubled back around the north end to the only entrance on Thursday on the west side. The large parking lot on the south end that provides parking for the equipment trailers and a great place to hear the front ensembles rehearse, was bannered off from spectators this year, due to health and safety protocols. My unscheduled hike was about 30 minutes of hard but flat concrete, half in the bright mid-western summer sun, half in the shadow of the brick megalithic structure.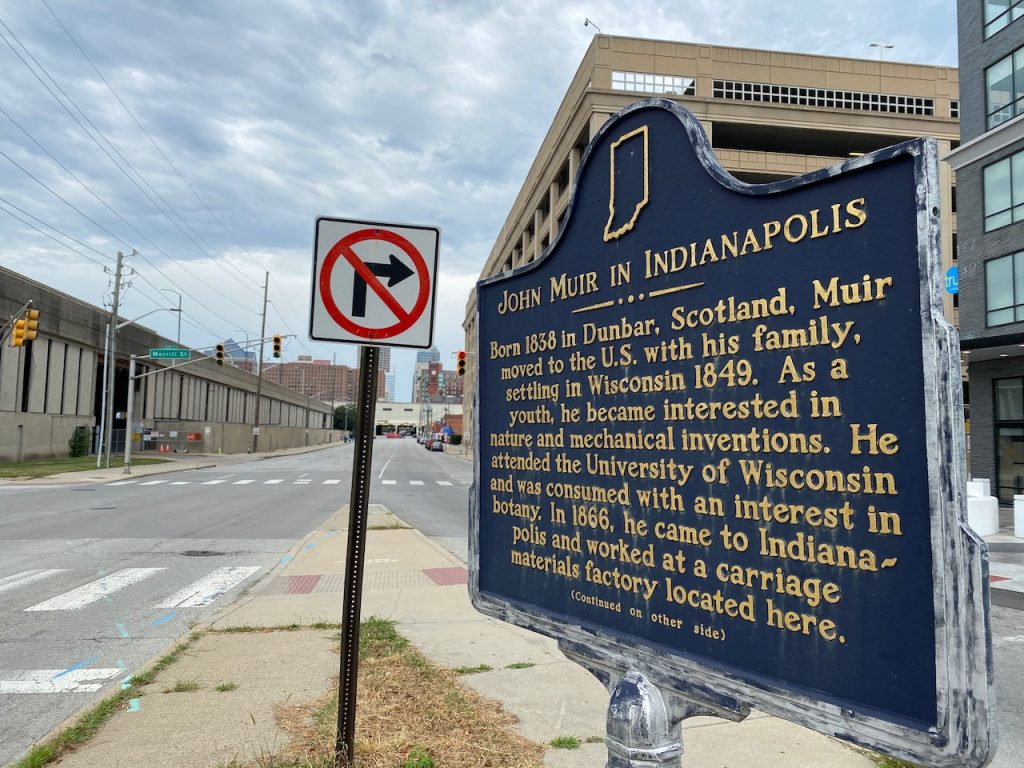 Now ensconced in my padded seat at the 35-yard line right, the air condition amphitheater welcomed me back in comfort. I am up much higher, but 15 yards off my usual From the 50 perspective of the past two previous years being in DCW publisher Steve's block. I was not sure of my commitment to the tour and instead chose get in with the masses this year. Coincidentally, I am near some BAC board members. My seat neighbor to my right is Steve, another solo drum corps fan. Being higher up, I look forward to a better perspective on the drills, but not sure about the sound quality. It is my first time back in the indoor setting for drum corps and, up here, the echo is distracting. I will just have to get used to it. I know that the members have an adjustment period so tonight they might also be struggling with the sound that bounces around in this cavernous space. During this intermission between the performing corps, there are video presentations of corps who are not touring, and live solo performances on the music stage that is also broadcast on the large video screens. After this intermission it is time for the Colts from Dubuque, IW to perform, my first indoor show of 2021. It is early in the evening and there is a lot of drum corps to go before the evening is over. Hold on to your hat!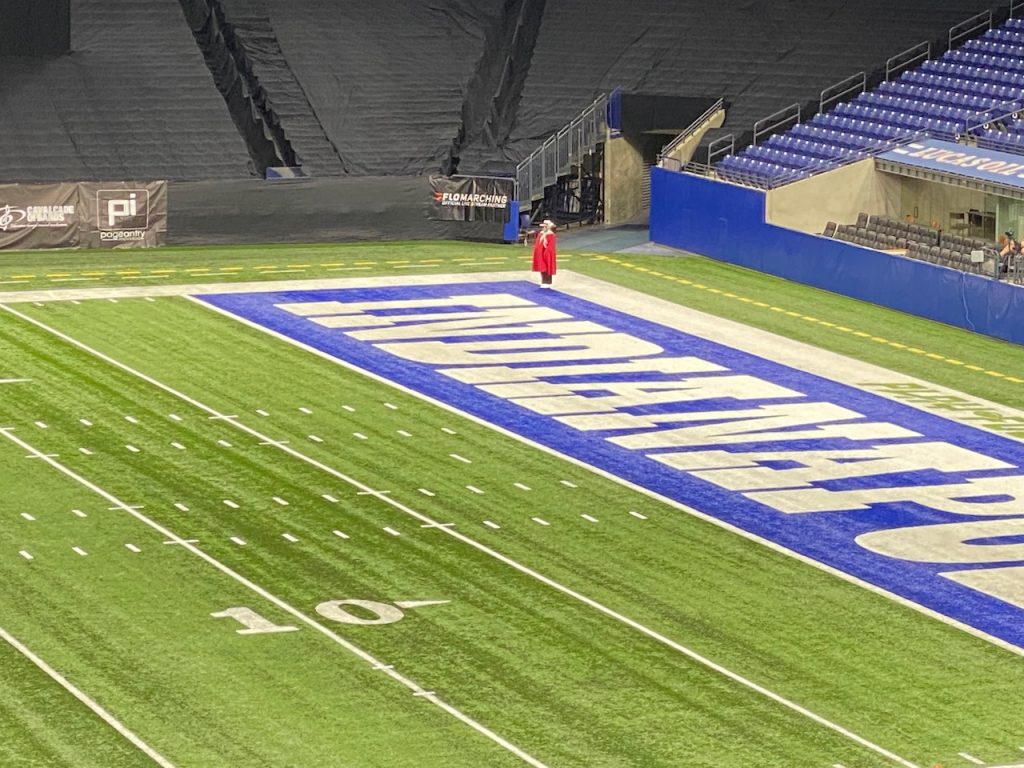 11:30pm
Wow! is the word that has become too trite to use to describe drum corps. I need help with some new superlatives. What a joy to the hippocampus (you know the part of the brain associated with pleasure) to experience such creative high-energy performing arts spread out across 1.32 acres of open level ground with fresh cut grass, or the facsimile of. Not sure why we need those annoying white lines every five yards but I suppose they are good for reference for the 154 plus members who are not intentionally hitting each other. The Madison Scouts, Pacific Crest, Phantom Regiment, Blue Stars, Blue Knights, Spirit of Atlanta, Boston Crusaders, Cavaliers, The Cadets, Boston Crusaders and finally tonight, the Bluecoats all battled (to perform their personal bests) on the gridiron, finding their moxie in the oil can stadium. Oh, how I wish that I had a chance to hear and see them all outdoors this season. It is a shame and a blessing to be indoors. A shame because the quality of sound is very different with echoes that tend to drown out the details of the arrangements. The blessing is that we did not get rained on, the seats are more comfortable and spacious, and there are plenty of restrooms nearby.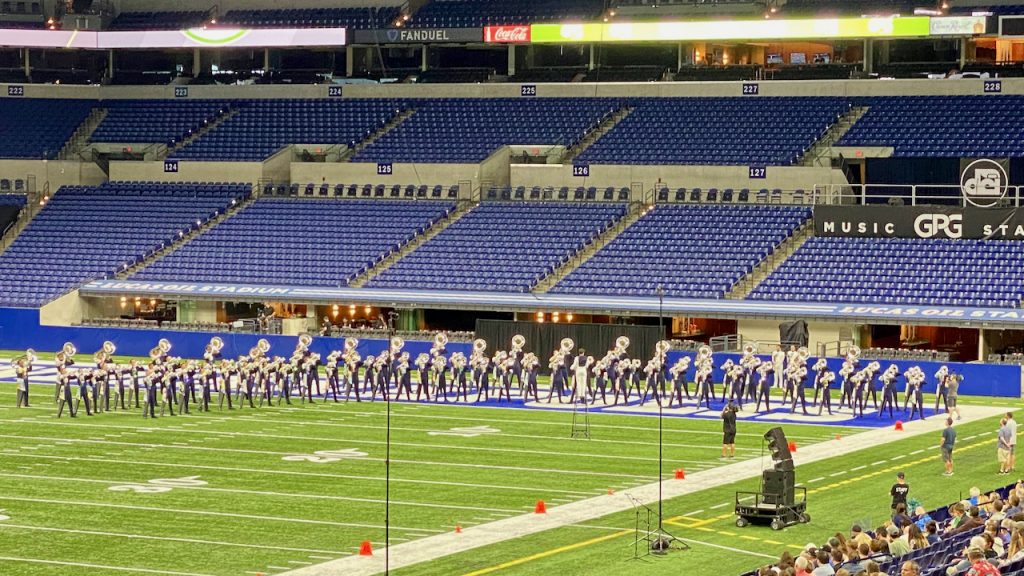 The eastern caravansaries that have toured together, that I had the pleasure of following from Boston to Allentown, Akron, and Centerville were among the crowd favorites. The Boston Crusaders had the best performance of the night in my humble and possibly biased opinion. Wow, what an awesome display from the color guard. Not one drop out of the hundreds of rifle and sabre tosses. This show has few equals on many levels including Gino and team's brass. The Cadets brought their tradition-laden favorite to the highly enthusiastic spectators who craved the nostalgia in precision. Bluecoats demonstrated the joy of performing the most fun-related designed program of the season. Each member displayed and vocalized their real life enthusiasm that was clearly intended. Oh, how much fun they had all summer faking us out with that faux ending! Another highlight of the evening for me was the Blue Stars featuring close to one hundred horns. An impressive sight to see so many tubas. Their power was evident. It is a great year to witness certain changes that are not necessarily according to the rules that normally govern the activity. No violations for having more that 154 kids on the field was cool. Of course, I am not able to articulate the finer points of each show since I have had no prior knowledge or viewing of any the corps other than those who toured together along my journey. Perhaps as the week continues, I will be able to articulate some nuggets. Meanwhile, it's time for a long-overdue reunion and merriment with some of my drum corps brothers and sisters. There are two more nights of DCI celebration ahead, so I will keep you posted.