By Kevin Russell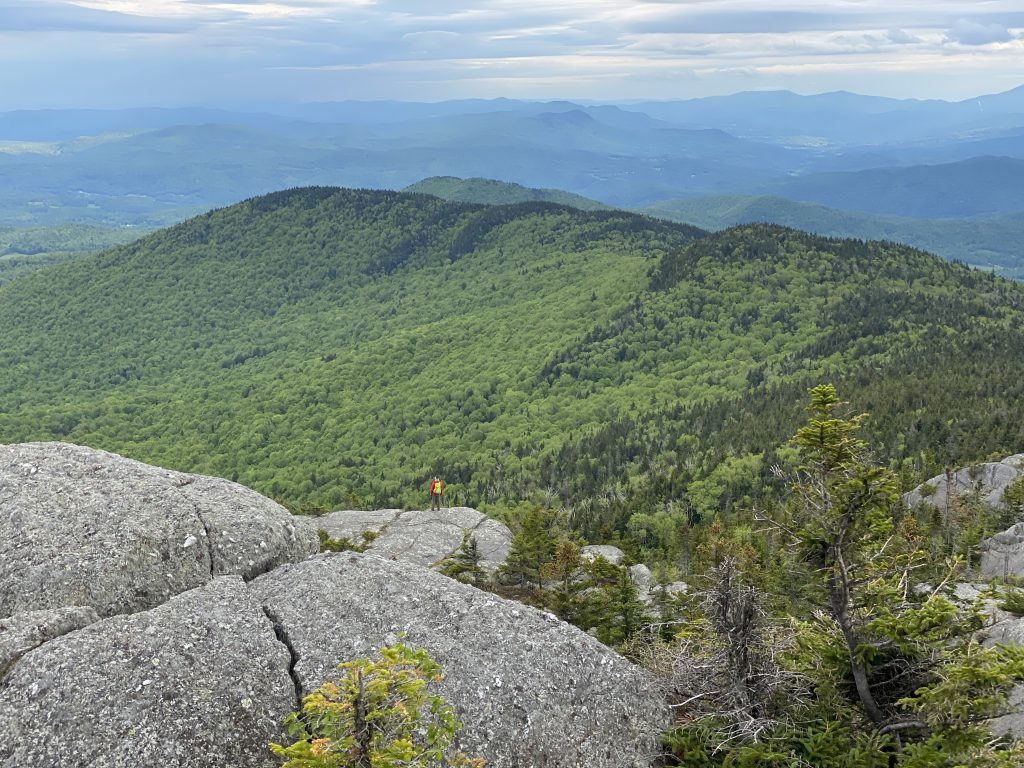 I recently returned from two days immersed in Vermont's forests, though I spent most of my time indoors seated at a conference table. I attended the Vermont Forest Industry Summit, a conference organized by the Vermont Sustainable Jobs Fund held at the Burke Hotel and Conference Center at the venerable ski area in the Northeast Kingdom. This was the second annual gathering of representatives from a broad range of forestry-related business and stakeholders including landowners, foresters, loggers, wood processers, wood products manufactures, sugar makers, policy makers, and more.
I was part of the more – a forest recreation interest. Though technically, as a snowshoe and backcountry skiing guide, I work in the woods, most of the time it is for personal recreation and spiritual enrichment. I registered for the conference under one of my many hats, as Secretary of the Mad River Valley Backcountry Coalition (MRVBC), a newly formed chapter of the Catamount Trail Association (CTA), Vermont's end-to-end x-country skiing trail. My goal was to present a friendly face for backcountry skiing and to listen and learn. I learned a lot!
Firstly, I would like to say that the Burke Hotel and Conference Center did a great job. A shout out to Patrick and his staff for a smooth and well-run conference. My hotel suite was great and very affordable thanks to the off-season. Secondly, the Vermont Sustainable Jobs Fund presented a fantastic array of speakers and panelists of industry professionals that kept us engaged and interested. Well done VSJF! Thirdly, I was very impressed with the turnout of attendees from all walks of forest life. As I scanned the ballroom I could easily determine those who spend their time in the woods and those who in their shops and offices. Flannel, printed cotton Ts, and a smattering of technical poly shirts clad those that filled the room. Not a necktie in sight. These were my kind of people.
The plenary kicked off the conference with a panel discussion on "The Future of our Forests." Did you know that today Vermont is roughly 75% forested and the forest assets are growing rather than depleting at the current rate of harvesting. Unfortunately, however, there is not enough demand for low grade wood. Vermont once exported pulpwood to Maine but no longer due to the closure of large paper and pulp mills in recent years. It is important to cull this low value wood for the health of the high quality timber. Finding new markets and products for low value wood is a major initiative. Did you know that anything that is made of plastic can be made from processed wood? Interestingly, initiatives to ban single-use plastic that would increase demand for paper replacements are met with resistance by the many libertarian-minded, forestry-interested parties who were present.
Establishing a better awareness for the Vermont forest products brand of high quality and environmental responsibility to policy makers, regulators, and other stakeholders was another major point of discussion. Thankfully, lawmakers and policymakers were well in attendance.
There is however an awareness gap that exists with the general public regarding the forest products industry and its importance to local rural economies. Growing recreational interest in the Vermont forests presents an opportunity to improve the people's understanding of the working landscape that they traverse. Presenting educational information and programs that feature forest resource management (logging), natural resource protection (wildlife), and responsible recreation is key to the future vitality of Vermont and its forests. It has been proven that recreation is the cornerstone of Vemont's 21st Century economic and social vitality. However, we need to acknowledge that forest management has given us the landscape that we enjoy.
It was agreed by those present, that the opportunities to participate in Vermont's forest attributes should begin with Kindergarteners.
Kingdom Trails, a local mountain bike trails organization located in East Burke, VT, has begun installing information kiosks at trailheads, highlighting the working forest. A major key to the success of Kingdom Trails has been their outstanding relationship with private landowners, land managers and those who work alongside them in the forests. Representatives from the Vermont Department of Forests, Parks and Recreation spoke positively about how traditional forest uses can coexist with recreation. The successful collaboration with Vermont's mountain bike community for the past two decades has proven very successful for Vermont's outdoor recreation economy, and Vermonter's way of life.
One session of the summit that I found most interesting was a track on Vermont furniture makers and industry trends. Interestingly, there was a representative from Simon Pearce glass on the panel in addition to a fine wood furniture maker, and retailer of Vermont furniture. The big take away for me was that there is synergy between all Vermont-made home furnishings. It was suggested that collaboration among all Vermont-made home furnishings manufacturers could be productive. Perhaps gathering in a summit-like setting and/or hosting a show where retailers, interior designers and others can attend could be a positive step. One point that everyone made was the influence of the forest in their lives and their work.
Another great session was the Forest to Table track that focused on the tourism aspect of Vermont's forest. Bathing in nature is truly a popular and necessary activity. Of course, our forests and hills provide excellent venues for hiking, biking and skiing, but did you ever consider making a dining table by first exploring the forest where the wood is grown and harvested, then traveling to the mill where it is processed before heading into the woodworking shop to assemble and finish it? Check out the Naked Table Project where you will find this unique tourism concept.
As awareness for the value of recreational opportunities in Vermont's forests grows, land managers and landowners have successfully partnered with local non-profit recreation groups to provide responsible access to the forests of Vermont. The organizations such as the CTA, Green Mountain Club, and so many other regional and local groups, too numerous to mention, rely on memberships, donations and volunteerism to make it all happen.
I see this aspect of the forest's recreation economy taking a larger role in future Vermont Forest Industry Summits.
I am very happy to have attended the Vermont Forest Industry Summit. I experienced, firsthand, the diversity as well as the congeniality among those who rely on the forests and are part of this important Vermont industry and culture. Vermont's forests are alive and well. However, changes in economics in the paper industry has limited the market for low value timber resources that should be culled from forest in order to maximize the value of higher quality timber. New markets are being explored to utilize this resource, including development of wood products to replace plastic. Recreational activities are becoming well-managed in collaboration with traditional forest management practices adding social and economic value in our rural communities.
I know that from now on, every time I go for a hike or ski in the forest, I will be looking at things differently with a greater appreciation for the diversity of interests in Vermont's forests and the privilege that we have sharing the land together whether for work or play. For more information: Vermont Sustainable Jobs Fund.
Kevin Russell is an outdoor recreation advocate and writer from the Mad River Valley.